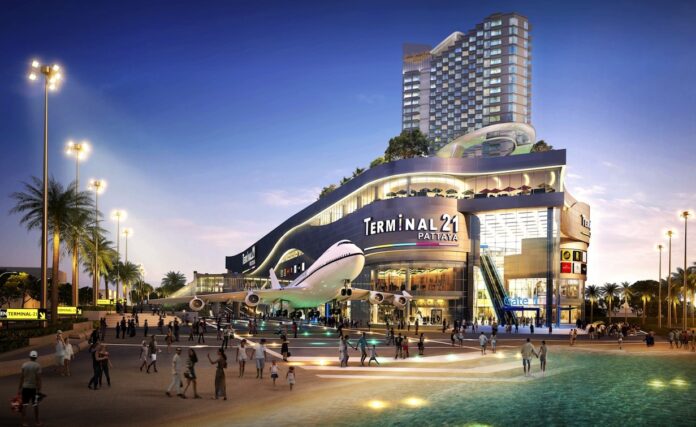 PATTAYA — A themed shopping mall that takes tourists around the world is bringing new flights of consumer fancy to a coastal enclave and southern Bangkok.
In the run-up to Terminal 21's Pattaya debut on Oct. 19, the mall developer's CEO announced another branch is in the planning stages for the capital's Rama III Road area.
"We're confident there will be even more tourists going to Pattaya," said Suwanna Buddhaprasart, CEO of LH Mall & Hotel Co., citing the 17 million tourists who visit the seaside town annually.
Like its Terminal 21 cousins at Asok and in Korat, Terminal 21 Pattaya will be divided into zones capturing the world's tourist destinations, including a French-themed area with an Eiffel Tower replica. The six-story, 180,000sqm mall complex will also include a 6,000sqm water park. It will connect to the Grande Centre Point Pattaya hotel, which also opens next month.
Suwanna said her company, which also owns the Grande Centre Point chain of five hotels, earned 5.4 billion baht in profits last year and expects 5.7 billion baht in 2018.
Next year, the company will begin building Terminal 21 Rama III on a 15-rai (2.4-hectare) lot next to the Montien Riverside Hotel with an eye for a mid-2022 opening.