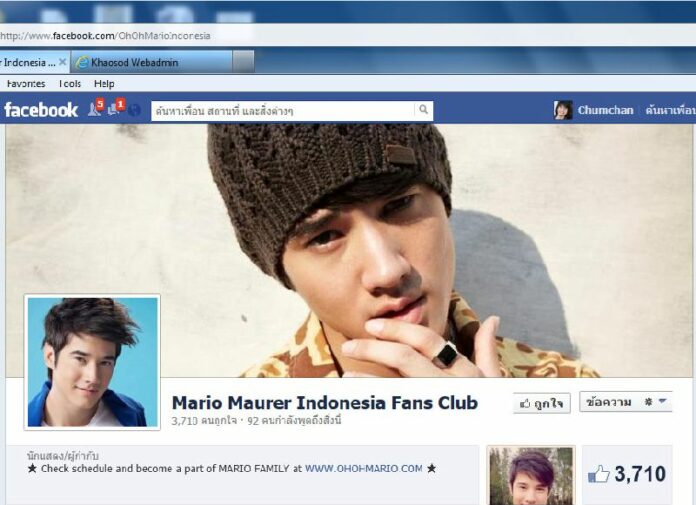 Unexpected overwhelming income "Pee Mark Phrakhanong", a remake Thai film about the story of "Mae Nak Phrakanong Ghost Story" has raised over $10 million (300 million baht) after three weekend.
In
this week, the team of this film production, including leading stars, Mario Maurer, Davika Horne and
Prakhanong Boy Band visited to Mae Nak Phra Khanong shrine, Mahabut Temple in Soi 77 Sukhumvit
Road, Bangkok to pay tribute to the Mae Nak ghost that her story has made them a
great success.
Local folklore believes the story is based on actual events
that took place during the early 19th century. It is about a beautiful young woman named Nak, who
lived by Phra Khanong canal in Bangkok waiting for her husband, Mark who was sent to war. Later she
died in childbirth before her husband returns home. However, when Mark comes home,
he finds his loving wife and child waiting for him without knowing they are the
ghosts.
Mario Maurer, a Thai-German superstar who played as Mark said he
was very excited when knowing that the movie reached ? 100 million and extremely surprised when it
raised over ?300 million.
Also last weekend the team has met
Indonesian fans in Jakarta. Thai foundation and Thai Embassy in Jakarta arranged this trip with
a special showtime for Indonesian press and audience. The 1,000 tickets were suddenly sold out.
"At first, I was afraid that linguistics would be a big obstacle for the
Indonesian audiences. Yet, we still work hard to translate Thai gag into the context of Indonesian
understanding. Now, we can see our achievement through the laugh of Indonesian fans." "Tong"
Bunjong Pisanyathanakul the director of the film said with smiling proudly.
Dhavika Horne thanks to all audiences who made her a warm
welcome.
This success would be a great support for Thai
movie to go for bigger market.
also see The hottest
Ramake with the Hottest Actors : Nadech and Mario ==