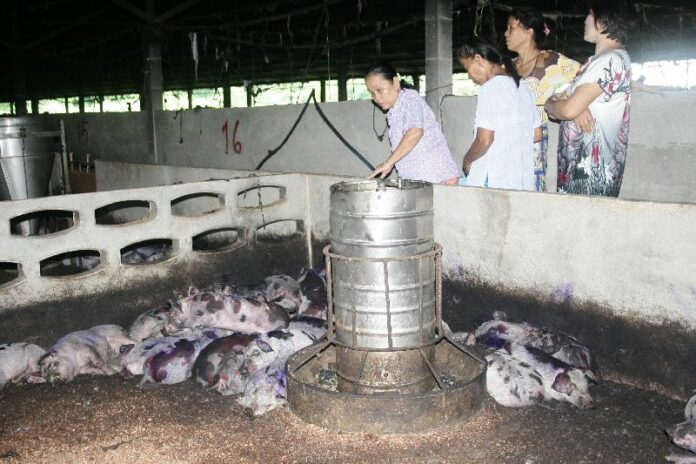 (23 June) Hundreds of
pigs at a farm in Prachinburi province were killed and injured after the farm was struck by
lightning, setting off a rapid firestorm.
Police received report about the incident around
00.30. When officers and rescue workers arrived at the scene – Somchit Farm in Kabinburi district –
they found heavily damaged pigsties filled with hundreds of dead pigs with burned injuries, while
injured pigs lay on the ground, baying their wretched cries.
Ms. Somchit Prakorbya, 52, the
owner of the farm, said that her farm supplies pork to the provincial branch of the food company
Betagro Group. She said she owned 1,474 pigs in total, many of them piglets.
The owner told
our correspondent there was lightning storm on the previous night, and suddenly a lightning has
struck in the middle of the pigsties, causing the blackout in the entire farm and igniting plastic
sheets which covered the pigsties. Ms. Somchit said she tried to dose the flame but failed, so she
called the emergency number. However, she said, by the time firefighters arrived most of the
pigsties are already burned down.
Reports said at least 500 pigs died. Ms. Somchit calculated
that the incident costs her 7-8 million bajt. The police said they would investigate for certain
whether the fire was caused by lightning or electric circuit.
Officials had buried the dead
pigs to prevent a pestilence, and the injured ones were sprayed with antibiotics. Mr. Pirayuth
Kruebkratoke, a representative of Betagro Group in the province, said he expected additional deaths
in the near future because many of the injured pigs suffered more than 50% burns on their
bodies.