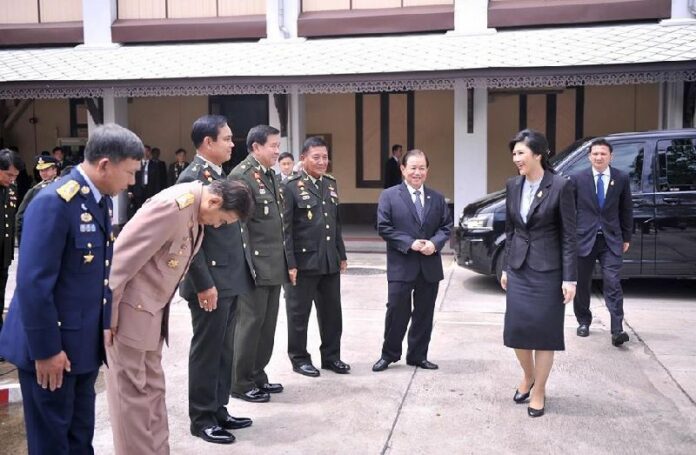 (11
July) Anti-government protesters outraged by the appointment of PM Yingluck Shinawatra as the new
Defense Minister gathered in front of the Ministry of Defense in Bangkok today in hope that Ms.
Yingluck would be prevented from executing her first day of work.
The group calling itself
Networks of Thai Who Love Their Nation numbered around 300 individuals. Convinced that Ms.
Yingluck would arrive at the Ministry around 11.00, they scattered to block all entrances to the
Ministry, which locates just opposite the famous Grand Palace in Bangkok′s Old City district.
The group′s leaders took turn to give speeches on their loudspeaker truck, denouncing Ms.
Yingluck and her brother Former PM Thaksin Shinawatra, whom they saw as corrupt anti-monarchy
tyrant.
Many of the leaders are veteran activists of the Yellowshirts movement, the
self-declared nemesis of Mr. Thaksin, including Mr. Tul Suttisomwong who had previously written on
his Facebook that the military should be ashamed because the new Defense Minister is a
whore.
The protesters were greeted by over 1,350 riot police officers and military police
who barred the entrances to the Ministry with iron fences to keep the protesters out. The police
closed one traffic lane for the protesters to stage their rally.
The protest was largely
peaceful until one of the group leaders attempted to storm past the police line into the Ministry.
He was quickly apprehended, while the outraged protesters rushed in and clashed with the riot police
who stood their ground.
The protesters then resorted to throwing objects at the police, but
the officers did not respond. The clashes eventually subsided.
Ms.Yingluck managed to arrive
at the Ministry on 11.09 via the motorcade escorted by police officers. The protesters could do
nothing other than shouting insults at her arrival. Once inside the compound, the smiling
Ms.Yingluck immediately proceeded to pray to the spirit shrines at the Ministry. However, she was
forced to cancel the planned worship at City Pillar Shrine as the protesters were rallying
nearby.
Top ranking military commanders were present in the ceremony to welcome her first day
in office. It is unclear if the gesture would calm the ongoing rumors – spread mostly by
anti-government critics – that the military is contemplating a military coup against her
administration.