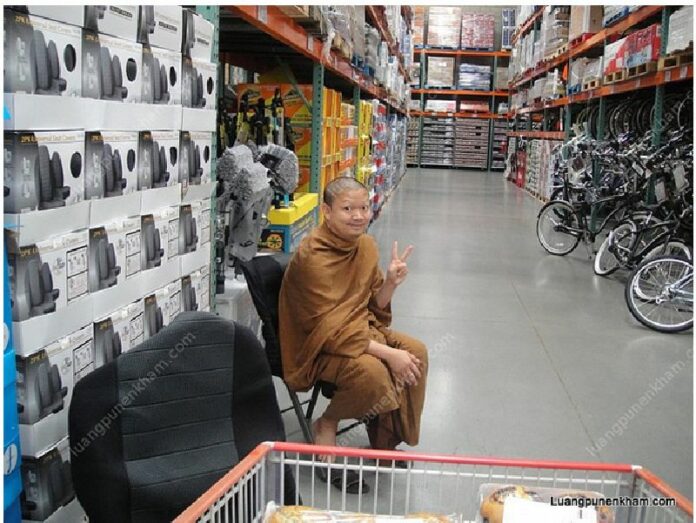 (10 July) The Department of Special Investigation or DSI said it was
taking over cases of Luang Pu Nen Kham, the controversial monk reputed to be extremely wealthy,
after someevidences suggest that he may have committed serious offenses such as fraud, sexual abuse
of underage girl, and even manslaughter.

DSI Director-General, Mr. Tharit Pengdit, saidon
Tuesday that DSI was taking over the case of Pra Weeraphol Sukphon, more commonly known as Luang Pu
Nen Kham, listing 8 allegations against him, which are:
Violating the
Computer Crimes Act by posting false online-advertisement luring people to donate for the building
of world's largest replica of the Emerald Buddha
Sexually abusing a child aged
under 15-year-old

Tax evasion of at least 9 imported cars

Drug abuse

Proclaiming false Doctorate Degree Certificate from so-called
World Peace University
Manslaughter; unintentionally killed a man by
driving over the person
Money laundering, spending donated money for
individual purposes and depositing abroad
Boasting of supernatural
powers
Today, Mr. Tharit and his team has conducted field investigation in Ubon
Ratchathani province, and found that during 2009-2011,Nen Kham and his associates bought 22
Mercedez-Benz cars, spending approximately 95 million baht from donations. Moreover, some of these
cars may be involved car-tax evasion.
DSI and Central Institute of Forensic
Science (CIFS) will conduct another field works in Ubonratchathani and Si Saket provinces to get the
DNA test of an 11-year-old boy whose mother claims he is her and Nen Kham's
child.
The DNA examples will be taken from Nen Kham's parents, which DSI
officials said should yield the results within 24 hours with 99% accuracy. However, the mother of
the child will need to assent the request, but DSI officials say they are certain that Nen Kham's
parents would cooperate.
DSI also announced it will immediately ask Anti-Money
Laundering Office (AMLO) to freeze Nen Kham's assets, and would ask the Office of National Buddhism
(ONAB) to consider expelling Nen Kham from monkhood.
Additionally, Mr. Tharit said that once DSI have collected enough evidences for
the court, the authority will seek an arrest warrant as soon as possible.
Luang Pu Nen Kham is thought to be abroad at the moment. He said he was on

eligious trip in France, but some reports suggested he has already left the country for the
US.