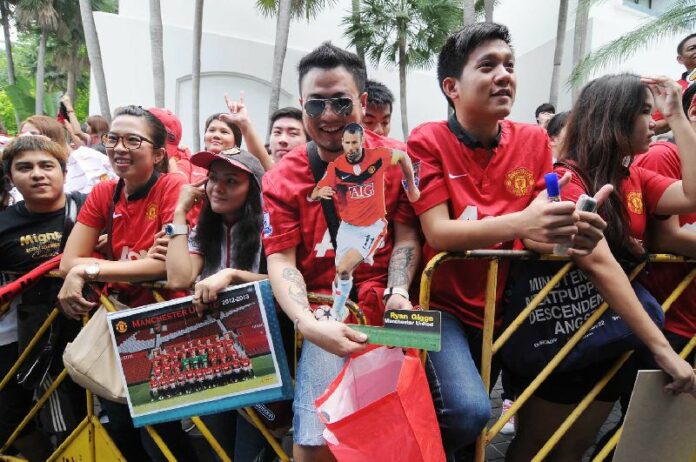 (11 July) Stars of
Manchester United arrived in Bangkok today amid the cheers of hundreds of Thai fans who had been
camping out in front of the airport′s entrance since early morning to catch the glimpse of the
legendary football team which commands exceptional popularity in the kingdom.
The 20-time
champion of the English Premiere League is scheduled to play against a Thai team in a match
organized by the giant brewery Boon Rawd Brewery on 13 July to celebrate the 80th anniversary of the
company′s founding.
Emerging from VIP reception hall of Don Mueang Airport into the sunlit
Bangkok today were all the household names so many Thais are familiar: Michael Carrick, Phillips
Neville,Phil Jones, Wayne Rooney, the twins Rafael and Fabio Da Silva, and Andres
Lindegaad.
The new club manager David Moyes and Ryan Giggs were the among the last to appear
– to the thunderous applaud and screams of the faithful fans.
Ms. Supparanee, a 19-year-old
girl from Bangkok, saidshe felt grateful that the team is here. She has been waiting at the airport
since 06.00 for the team to arrive, she said.
As a student, it is an affordable chance for
her to my favourite team here in Thailand, because I cannot afford to see the game at the Old
Trafford, Ms. Supparanee told our correspondent, adding that she still hopes to travel there one
day.
She also said she would love to see Wayne Rooney and Javier ?Chicharito? Balcazar
in persons.
Another man who went by the name ?Giggsy? on social network, also from Bangkok,
said that even though he has been to the Old Trafford many times,but to see The Red Devils in
Thailand is a unique experience.
While the games at Old Trafford were intense, Mr. Giggsy
said, the game that is going to take place here felt slightly more relaxing. Additionally, he
thought it is a great chance for the Thai fans to see their favourite team up close, and an
opportunity to create a football atmosphere in Thailand.
Having been a Man Utd fan
since 1978, Mr. Giggsy said the changes in team management are expected. However, he said that Man
Utd never brings him any disappointment.
In the game of football, sometimes you win,
sometimes you lose said Mr. Giggsy concluded.
Later in the late morning, David Moyes led
some of his squad to Siriraj Hospital, where His Majesty the King and His Majesty the Queen have been
residing, to send their well-wishes messages to the 2 monarchs. There, the team laid down Thailand′s
traditional bouquets in front of the portraits of the King and Queen.
The Red Devils is
scheduled to visit Manchester United Soccer School in Muengtong Thani complex later in the day to
meet with selected young fans and teach them some football tricks.