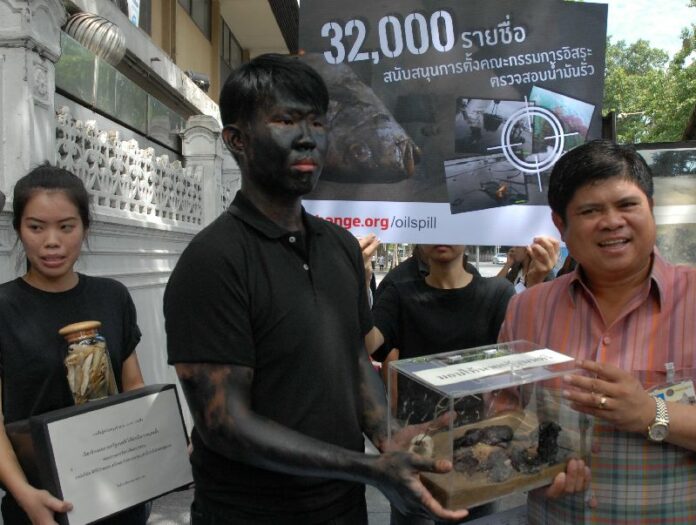 (27 August) A group of
environmental activists has demanded that the government set up an independent and transparent commission to
investigate the oil spill in the Gulf of Thailand that has severely damaged the region′s tourism and
livelihood.
In a letter addressed to Prime Minister Yingluck Shinawatra, Dharmma Research for
Environment Foundation urged an effort to hold the PTT Global Chemical responsible for its role in the incident,
which was caused by a leak in the company′s oil pipeline.
Ms. Supaphon Malailoy, the group′s
representative, and other activists submitted the letter at the Government House today. Reportedly,
32,000 people have signed the letter.
Some activists also painted their faces with black
ink, and brought with them a jar of marinated shrimps and a jar of black squid to be given to the
Prime Minister as an ironic gift.
Ms. Supaphon said that the group believed that the
PTT-appointed commission, led by Ms. Thongthip Rattanarat, is unreliable due to its close
relationship with the company.
She cited the procedures made by Australian government, when
it appointed an independent commission to investigate the oil spill caused by PTT Australian-owned
rigs in 2009. The case, conducted by the impartial commission, resulted in 8,946 million baht
compensation fee paid by the company, she said, urging the Thai government to do the
same.
The appropriate committee should include
epresentatives from various sectors, such as the
public sector, private sectors, academia, legal experts, and local residents, and it should define
clearly what compensation PTT Global Chemical should pay, Ms. Supaphon added.
Deputy Prime
Minister Suphon Atthawong reassured the group that he will pass on the letters regarding the issue
to the Prime Minister and other relevant agencies as soon as possible.