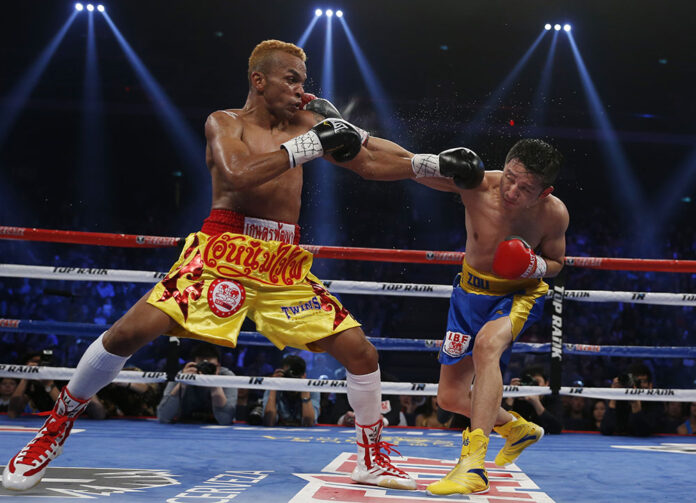 VARGAS, Venezuela — Former IBF flyweight champion Amnat Ruenroeng and a French-Cameroonian middleweight contender are the most prominent professional boxers attempting to win berths in the Rio de Janeiro Olympics during the final qualifying tournament.
The International Boxing Association, or AIBA, announced the entrants Saturday for the tournament beginning Sunday in Vargas, Venezuela.
AIBA decided earlier this year to allow professional boxers to compete for an Olympic berth, but Amnat and Hassan N'Dam are the most prominent professionals to accept the organization's invitation.
AIBA's decision sparked renewed interest in the often-overlooked Olympic sport, drawing tentative interest from some pros. It also sparked widespread condemnation from fighters and coaches concerned about safety.
After so much drama, it's increasingly likely that no prominent professional fighters will be in the Rio tournament.
Amnat and N'Dam are both former Olympians, who both fell one victory shy of a medal in their first trips to the Games.
The 36-year-old Amnat is competing at the 60-kilogram lightweight limit in Venezuela. He is most famous for taking up boxing while serving a 15-year jail sentence for robbery.
Amnat fought for Thailand at the 2008 Olympics in Beijing, losing to Mongolia's Purevdorjiin Serdamba in the quarterfinals.
He didn't turn pro until 2012, but he won the IBF flyweight title in January 2014 and defended it five times, including a unanimous decision over Chinese star Zou Shiming, a two-time Olympic gold medalist.
Amnat lost his title on May 25, getting stopped by John Riel Casimero. Less than six weeks later, he will attempt to win a spot in the Rio Olympics.
The 32-year-old N'Dam is competing for Cameroon at the 81-kilogram light heavyweight limit in Venezuela. He also fought for Cameroon at the Athens Olympics in 2004, losing in the quarterfinals to Russia's eventual gold medalist Gaydarbek Gaydarbekov.
N'Dam won his first 27 pro fights, mostly in France. He briefly held interim middleweight titles with the WBO and WBA.
But Peter Quillin beat N'Dam by unanimous decision in October 2012 for the first loss of his career. N'Dam then was battered by Canada's David Lemieux in June 2015 in a bout for the IBF middleweight title.
AIBA's Olympic invitations to pros drew scathing condemnation from professional boxing's sanctioning bodies, who have obvious reasons to protect their own position in the sport. Yet their questions about the safety of matching grown fighters against younger amateurs were echoed by dozens of prominent fighters, including Lennox Lewis and Ricky Hatton.
The Mexico-based WBC announced it will ban any of its top-15 boxers for two years for competing in the Olympics, while the IBF said it would strip a champion's title or level a one-year banishment from its rankings. While the governing bodies hold little power to prevent pros from fighting, their imprimatur is often a major factor in a professional boxer's financial success.
Many pros, including Amir Khan and Wladimir Klitschko, showed initial interest in Rio before backing away, citing numerous reasons.
Two-time Olympic gold medalist Vasyl Lomachenko believes pros would need more time to adjust to the daily weigh-ins, three-round bouts and intensive tournaments in the Olympics-style sport. While Rio appears to be a bust for AIBA in attracting top pros, Lomachenko believes bigger names will attempt to fight at the 2020 Games in Tokyo.