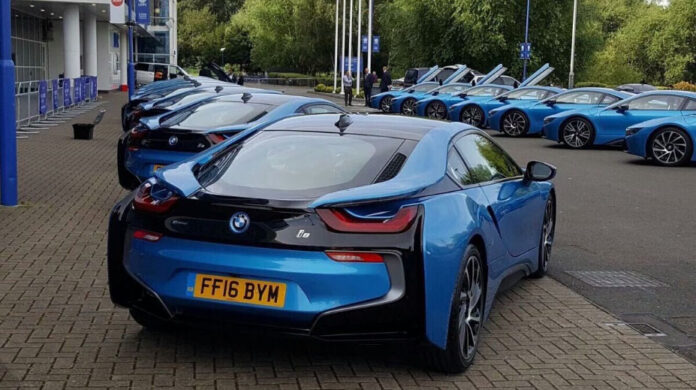 LEICESTER, England — First it was pizzas. Now it's top-of-the-range sports cars.
A fleet of 19 BMW i8s – each worth around USD$135,000 (4.74 million baht) — lined up outside Leicester's stadium on Friday morning as a reward to the players for their Premier League-winning exploits last season.
Another bonus for producing the most improbable title success ever in English football.
Asked whether he would be getting a car bought for him, Leicester coach Claudio Ranieri smiled and said: "Some gifts are only for them? Not for me? I want to speak with my owner."
The Italian rewarded his players for clean sheets by taking them out for pizza during last season. The bar has been raised considerably with the gift of a brand new car for each member of the title-winning squad.
It will set Leicester's Thai owners back 2 million pounds (91.7 million baht).
Leicester gets its season rolling with a match against Manchester United for the Community Shield at Wembley Stadium on Sunday. It is the annual season curtain-raiser, between the winners of the Premier League and FA Cup.
"I think about the match, not the cars," Ranieri said.
"This is not a friendly," the Italian coach added. "We will give the maximum and also Manchester United will too. Both teams want to win it."
Leicester's first game of its Premier League title defense is against Hull on Aug. 13.
"I forgot what happened last season," Ranieri said. "Now my focus is on the new season. We're ambitious, but know it will be very hard."
Story: Steve Douglas