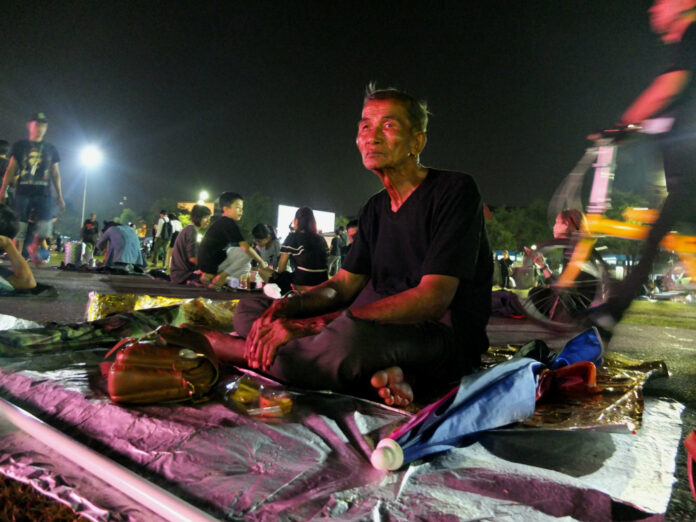 BANGKOK — After a few frustrated days at home, Phrom Onsri packed some clothes into a backpack Monday, grabbed a large umbrella and camping tent, then swung by his local pharmacist.
As he stocked up on medication for his heart condition, the 74-year-old farmer from Uthai Thani province told the pharmacist what he had yet to reveal to his daughter: he would hit the road to travel 250 kilometers to the Grand Palace to pay tribute to His Majesty the Late King.
On Wednesday night he was among hundreds of people who passed over accommodations arranged by the city in favor camping in the Sanam Luang to be as close as possible to the man many regarded as a father.
"I'm feeling refreshed," Phrom said after having slept there two nights and showered from a public tap. "To see it all with my eyes is a lot better than watching it on television."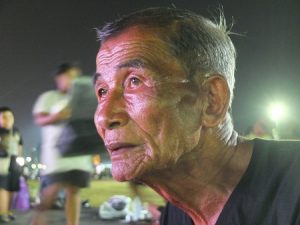 Nearly 200,000 people have visited the Grand Palace, where King Bhumibol's body was brought after his Oct. 13 death, according to the palace.
Asked how long he would camp there, Phrom admitted he hadn't made a plan to return.
"I haven't decided yet," he said. But life wasn't difficult there, he said.
A lot of things were provided for free, from black ribbons to Wi-Fi. There was an oversupply of food, and volunteers kept the field tidy. And if he had any health issues, a medical crew was just a two-minute walk away.
In agreement was Anong Jaratphan, who traveled from the northeastern province of Nakhon Ratchasima.
"I feel better just to see the wall of the palace where I know his body is lying inside," the 62-year-old woman said.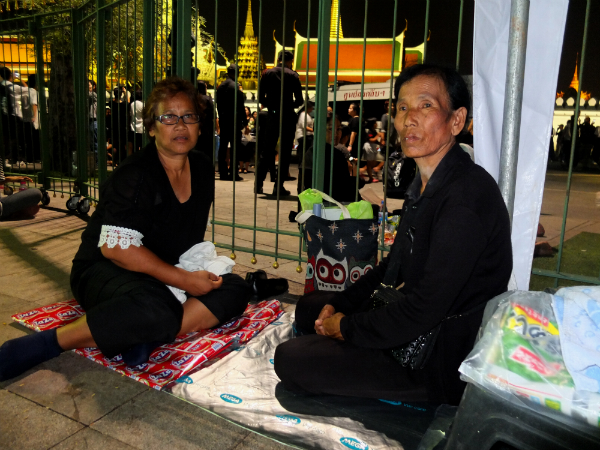 The Korat vegetable farmer said the only thing she could do at home was watch television where documentaries about the late King were shown repeatedly. It made her fall deeper into sorrow. But at Sanam Luang, she met new friends who shared the same sentiments.
Anong said she hadn't brought anything to sleep on because she initially had no plan to do so.
Since Saturday, the palace has opened to the public from 8:30am to 4pm.
Phrom woke up from his Sanam Luang bed at 3am and went straight to queue at the entrance. He arrived to find the line already longer than he expected.
"I plan to wake up at 1am tonight," Phrom said of his ambition to be at the front of the line.
The Uthai Thani farmer's plan is to pay tribute to the late King as many times as possible. He was able to enter the palace twice on Tuesday. On Wednesday, he only got inside once due to longer lines.
A week after King Bhumibol's death, those interviewed in the royal field said they still found it difficult waking up without the King who was like a father their whole life. Some said they didn't know when they would be ready to accept it.
"It will take very long," said Wilai Khramjapo, 51 of Chiang Mai. "This is the worst loss. I never cried this much before, even when I lost my own relative."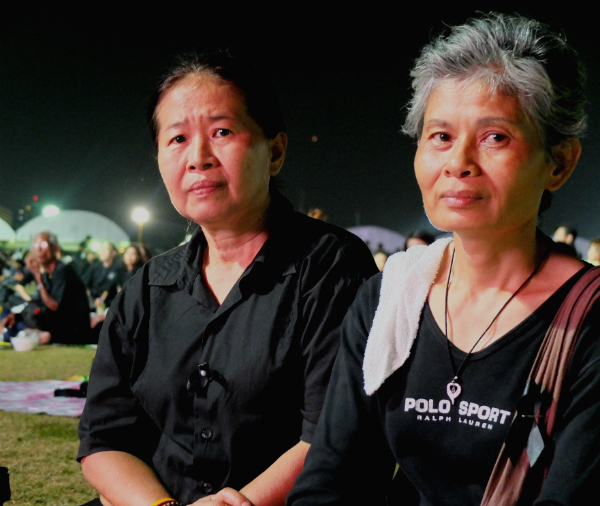 Traveling from Samut Prakan province, 52-year-old Krai Katekul said she was aware the Thai-Japanese stadium in the Din Daeng area had been prepared with facilities for 500 mourners. She didn't go there because she was afraid she would be unable to get to the palace by bus on time to queue.
"I also slept here on Friday. I don't have a tent. A lot of people just lay on a mat like I do," she said. "It's okay, there are some people walking around with free mosquito repellent."
Krai said she would return next Thursday to sleep in Sanam Luang as Oct. 28 will be the first day the palace will let people in to pay respects to the royal urn. No more than 40,000 people will be allowed inside daily.