BANGKOK — Kochapan Khunrattanadilok, an 18-year-old high school senior, was serving southern Chinese ice grass jelly in the afternoon heat to a line of about 20 mourners.
Called chao kuay, the black jelly is especially popular during hot seasons, as it is considered soothing and believed to reduce body heat. Kochapan, her Saipanya School classmates and students from three other schools served it a stone's throw from the wall of the Grand Palace, the epicenter of year-long mourning for the Late King, who died nine days ago.
Many of the volunteers there handing out black ribbons, herbal inhalers, candy and even paracetamol were high school and university students; young volunteers who said they did this to honor King Bhumibol.
Read: For Nation in Mourning, All Roads Lead to Sanam Luang
"We want to help. The sun is strong and we want to soothe them in the heat. Others are handing out food and stuff, and there is an over-supply of water. We're doing good deeds for our father," said Kochapan, referring to the regard many Thais hold for the King.
Thursday was the second time Kochapan and her friends came to distribute their jelly. On Monday they gave away 17 kilograms of it, with crushed ice and syrup. On Thursday it nearly doubled to 30 kilograms. She said her group had 1,040 baht left of money they had raised and would return if they could afford to.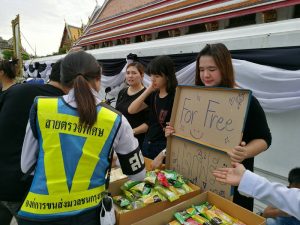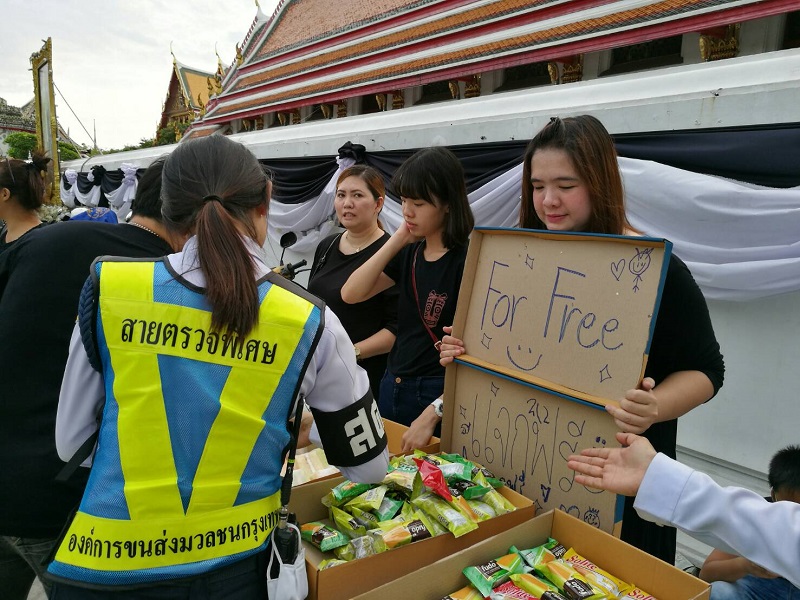 The notion that they were doing good deeds for their late royal father was repeated again and again by other young volunteers articulating the what and why of their actions.
Nearby four students walked past with large plastic garbage bags asking people to drop rubbish inside. Earlier they had been distributing candy.
Pimchanok Sawangsaensuk is a Mathayom 5 student at Srinakharinwirot University Demonstration School. She had raised along with her classmates and parents about 4,000 baht to purchase candy and mosquito repellent to give away.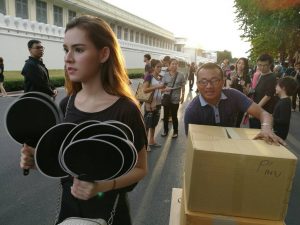 "Thais are generous, and we love the father," Pimchanok said.
Sudarat Seedakoon, a first-year student at Bansomdejchaopraya Rajabhat University, was handing out black ribbons for those who didn't have or couldn't afford black clothes to wear every day.
"I am proud," Sudarat said.
The official mourning period is for one year, while the general public was asked to observe it for one month.
Along with her classmates, Sudarat bought long strips of ribbon to cut into mourning ribbons.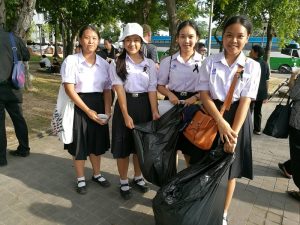 "We are proud that we could do something small for the King," she said, her eyes beaming. It was her third day doing this after class.
One week after the passing of the King, the atmosphere around the Grand Palace had begun transforming from expressive grief to serene acceptance. Some people were taking selfies or asking others to capture pictures of themselves in the area for remembrance.
Elsewhere around the vicinity, yet another small group of university students, these from Bangkok University, were handing out free paracetamol tablets.
The pain-relieving medication was going fast and ran out before a brief interview could be completed.
Not everything around the palace was free, however. White chrysanthemums were sold being sold for 20 baht for a slim bouquet, and an older man asked 40 baht each for a newspaper-sized poster of the late King, or three for 100 baht.