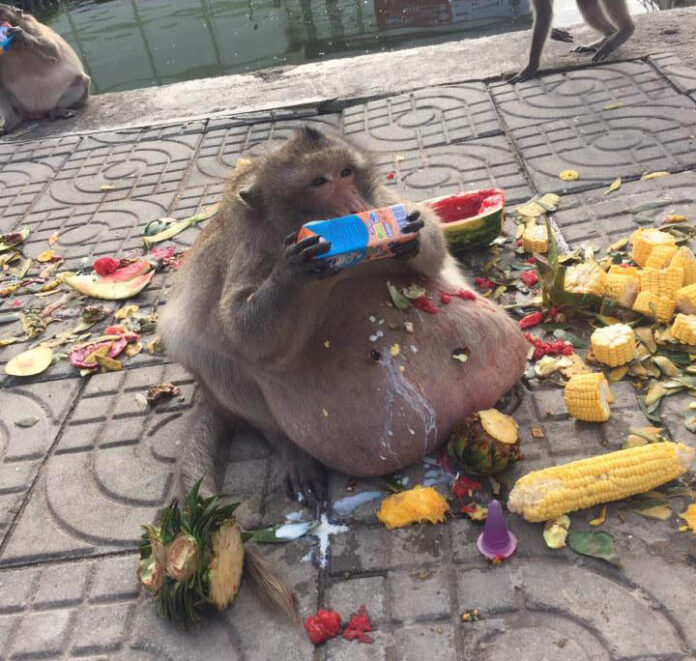 BANGKOK — Uncle Fatty, a macaque whose giant gut has brought him social media stardom, may actually have cancer, veterinarians said Friday.
After photos of Uncle Fatty's swollen belly went viral earlier this week, national wildlife vets hunted down the 10-year-old animal in the Bang Khun Thian district to bring him in for evaluation.
They found tumors in Uncle Fatty's stomach and are testing them to find out whether they are cancerous or benign. Uncle Fatty is under the care of wildlife officials as he awaits his test results, which will take about a week. The 26-kilogram macaque will also be tested for herpes, tuberculosis, liver disease and parasites. However, he definitely has a lung infection.
"Uncle Fatty loves the baby monkeys around him. He's like a fat old gramps that the kids just love to climb all over because he hides food under his belly," read a Friday morning post in Steadfast Monkey Lovers, a Facebook group of simian enthusiasts. "Sometimes he teaches the kids to swim, climb trees and find lice."
He's become a fixture of Bang Khun Thian, and many people have expressed concern about his health.
"I love Uncle Fatty with all of my heart," Facebook user Prarawin Sukarin said.