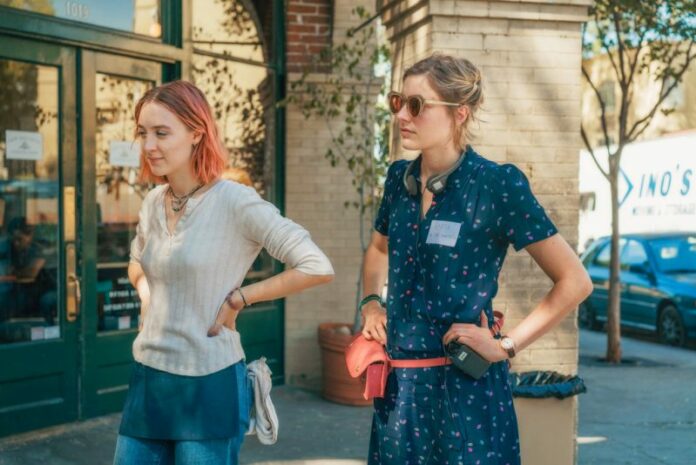 NEW YORK — The Academy Awards showered outsiders, on screen and off, with milestone-setting nominations that celebrated Guillermo del Toro's full-hearted ode to outcasts "The Shape of Water," embraced first-time filmmakers like Greta Gerwig and Jordan Peele, and made "Mudbound" director of photography Rachel Morrison the first woman ever nominated for best cinematography.
In nominations that spanned young and old, studio blockbusters and passion-fueled indies, the 90th annual Academy Awards on Tuesday gave many who have long been shunned by the movie business — women directors, transgender filmmakers, minority actors, even Netflix — something to cheer about.
Leading all nominees with 13 nods, including best picture, was "The Shape of Water," by veteran Mexican filmmaker del Toro, whose Cold War-era fantasy is about a mute office cleaner (Sally Hawkins) who falls in love with an amphibious creature. But the nominations also carried forward some of the ongoing reckoning of the Me Too movement that has been felt especially acutely in Hollywood, where male filmmakers outnumber women by a ratio of approximately 12-to-1.
Gerwig, the writer-director of the nuanced coming-of-age tale "Lady Bird," became just the fifth woman nominated for best director, following Lina Wertmuller, Jane Campion, Sofia Coppola and Kathryn Bigelow, the sole woman to win, for "The Hurt Locker." Speaking by phone Tuesday from Los Angeles, Gerwig said the distinction was extremely meaningful.
"When I think about Kathryn Bigelow winning and me sitting there watching it and feeling suddenly like, 'It's possible,'" said Gerwig. "To be nominated as the fifth woman, I hope that what it does is that women of all ages look at it and they also find the spark within themselves that says: 'Now I have to go make my movie.' That's what I want. And I want it selfishly because I want to see their stories."
Morrison posted Twitter of her nomination: "I hope it tells all the dreamers out there (especially the young girls with cameras in their hands) that ANYTHING IS POSSIBLE."
In what's been a wide-open awards season, Oscar voters chose nine best-picture nominees, including four with female protagonists: "The Shape of Water," "Lady Bird," Martin McDonaugh's rage-fueled comic drama "Three Billboards Outside Ebbing, Missouri," Jordan Peele's horror sensation "Get Out," Joe Wright's Winston Churchill drama "Darkest Hour," Steven Spielberg's timely newspaper drama "The Post," Christopher Nolan's World War II epic "Dunkirk," Luca Guadagnino's tender love story "Call Me By Your Name" and Paul Thomas Anderson's twisted romance "Phantom Thread."
One of Gerwig's first calls of congratulations was to another first-time filmmaker, Peele. The two have been brought together by Hollywood's months-long Oscar campaigning and their mutual rookie status. (Gerwig previously co-directed a small feature.)
Peele becomes the fifth black filmmaker nominated for best director, and the third to helm a best-picture nominee, following Barry Jenkins last year for "Moonlight." He's also the third person to receive best picture, director and writing nods for his first feature film after Warren Beatty ("Heaven Can Wait") and James L. Brooks ("Terms of Endearment").
"I'm going to write. I'm now going to get hard at work on the next one," Peele said by phone. "One of the greatest things that I get from this whole process is this faith in my voice. It's like jet fuel. It makes me want to make as many movies that I can in my life.
"The Shape of Water" landed just shy of tying the record of 14 nominations, scoring a wide array for nominations for its cast (Sally Hawkins, Richard Jenkins, Octavia Spencer), del Toro's directing, its sumptuous score (by Alexandre Desplat) and its technical craft. Del Toro said in an interview Tuesday that he would celebrate with an extra chicken sausage for breakfast: "That will be my indulgence for the day."
"You realize that we are all, in some way or another, a bit of an outsider in different ways," said del Toro of his film's resonance. "Not fearing the other but embracing the other is the only way to go as a race. The urgency of that message of hope and emotion is what sustained the faith for roughly half a decade that the movie needed to be made."
All of the acting front-runners — Frances McDormand ("Three Billboards"), Gary Oldman ("Darkest Hour"), Allison Janney ("I, Tonya"), Sam Rockwell ("Three Billboards") — landed their expected nominations. But there were plenty of surprises and more than a few landmarks in the nominations announced from Los Angeles ahead of the March 4 ceremony, to be hosted by Jimmy Kimmel.
Meryl Streep scored her 21st nomination, for "The Post," and John Williams ("Star Wars: The Last Jedi") his 51st. Two 89-year-old legends became the oldest nominees: Agnes Varda ("Faces Places," best documentary) and James Ivory ("Call Me By Your Name," for adapted screenplay). There were eight first-time acting nominees, including 22-year-old "Call Me By Your Name" breakthrough Timothee Chalamet and Daniel Kaluuya, 28, of "Get Out." Saoirse Ronan, that grizzled 23-year-old, landed her third Oscar nom, for "Lady Bird."
Denzel Washington ("Roman J. Israel, Esq.") was nominated for best actor, likely eclipsing James Franco ("Disaster Artist"). Franco was accused of sexual misconduct, which he denied, just days before Oscar voting closed.
Christopher Plummer, who replaced Kevin Spacey in Ridley Scott's "All the Money in the World," also sneaked into the best supporting actor category. Added to the film in reshoots little more than a month before the film's release, 88-year-old Plummer is the oldest acting nominee ever. "Everything has happened so quickly of late that I am still a trifled stunned but excited by it all," said Plummer.
Perhaps most unexpected was the broad success of Paul Thomas Anderson's "Phantom Thread," which scored not only nods for Daniel Day-Lewis for best actor and Lesley Manville, for best supporting actress, but also nominations for best picture, Anderson's direction, costume design and Johnny Greenwood's score.
Anderson likely displaced Steven Spielberg ("The Post") and Martin McDonagh, the director of the film many have tapped to win best picture, "Three Billboards." His absence is a major knock for a film that has endured the harshest backlash of the contenders, with many claiming it's out of touch in matters of race.
Still, "Three Billboards" scored seven nominations Tuesday, behind only "The Shape of Water" and Christopher Nolan's "Dunkirk." The World War II epic, thus far little-honored in Hollywood's awards season, emerged especially strong with Oscar voters, taking eight nominations, many of them in technical categories. It's Nolan's first nomination for best director.
Though the favorites are largely independent films, a number of blockbusters fared well, including five nods for "Blade Runner 2049," four for "Star Wars: The Last Jedi," three for "Baby Driver," two for "Beauty and the Beast" and two for Pixar's "Coco," which is up for best animated feature. The Wolverine film "Logan" even notched a screenplay nod, a first for a superhero movie.
Yet Patty Jenkins' "Wonder Woman," which became the highest grossing movie ever directed by a woman, failed to receive any Oscar nods despite an awards campaign. Sean Baker's far lower budgeted "The Florida Project" also managed only a supporting actor nomination for Willem Dafoe despite hopes for more.
Though some minorities were still absent from the acting categories, the film academy, which has worked to diversify its membership in recent years, voted for a field of nominees almost as diverse as last year when "Moonlight," "Fences" and "Hidden Figures" powered a rebuttal to the "Oscars So White" backlash of the two years prior. Four black actors — Washington, Daniel Kaluuya, Spencer and Mary J. Blige ("Mudbound") — were among the 20 acting nominees.
The documentary category — also including "Abacus: Small Enough to Jail," "Last Men in Aleppo" and two Netflix entries: "Icarus" and "Strong Island" — likewise contained history. Yance Ford, the director of "Strong Island," about Ford's investigation into his brother's 1992 murder, became the first transgender filmmaker nominated for an Oscar.
Some had lobbied for "A Fantastic Woman" star Daniela Vega to become the first transgender actor nominated. While Vega didn't garner a nomination, her film, from Chile, landed in the best foreign language category. The other nominees are: "The Insult," from Lebanon; "Loveless," from Russia; "On Body and Soul," from Hungary; and the Palme d'Or winner "The Square," from Sweden.
Last year's Oscars broadcast drew 32.9 million viewers for ABC, a four percent drop from the prior year. More worrisome, however, was a steeper slide in the key demographic of adults aged 18-49, whose viewership was down 14 percent from 2016.
Though the show ran especially long, at three hours and 49 minutes, it finished with a bang: the infamous envelope mix-up that led to "La La Land" being incorrectly announced as the best picture before "Moonlight" was crowned.
This year, the academy has prohibited the PwC accountants who handle the envelopes from using cellphones or social media during the show. The accounting firm on Monday also unveiled several reforms including the addition of a third balloting partner in the show's control room. But the movie business has larger accounting problems. Attendance hit a 24-year low in 2017.
It was a dominant if bittersweet day for 20th Century Fox. Its specialty label, Fox Searchlight, is behind both "Three Billboards" and "The Shape of Water," and Fox released "The Post." Yet Fox's leading 27 nominations may soon count for the Walt Disney Co., which last month reached a deal to purchase Fox for $52.4 billion.
Both Amazon and Netflix failed to crack the best picture category but earned nominations elsewhere. Netflix's "Mudbound" scored four nods and Amazon's "The Big Sick" grabbed a nomination for Kumail Nanjiani and Emily V. Gordon's original screenplay about their real-life romance.
"At times we worried it would be insurmountable, or would rip us apart, or even worse — that no one would like it," Nanjiani and Gordon said in a joint statement. "The fact that it connected with audiences is exhilarating, and this nomination proves that our love is real. We have decided to stay married."