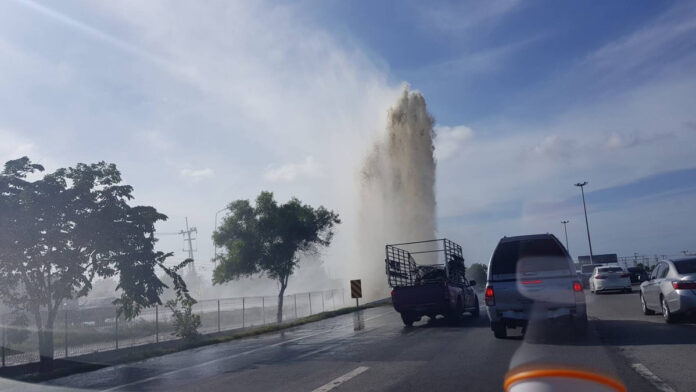 CHACHOENGSAO — A broken water main pipe sent a powerful geyser of water 30 meters into the sky Friday morning, flipping a car and flooding a busy highway.
A powerful blast of water shot up from the ground along Highway 7 southeast of Bangkok at about 8:30am, causing a woman to panic and lose control of her vehicle. She left the road and came to a rest upside down in a flooded gully. She was unhurt.
"The driver was safe, and the insurance company is liable for the accident," said Ratanai Sangsawang of the provincial waterworks authority.
It took about one hour to shut down the water supply to investigate the cause of the rupture.
The authorities presumed that high water pressure contributed to a large crack forming in the metal pipe, which carries water about 60 kilometers to a reservoir in Chonburi province, according to irrigation official Thanyanan Plumkid.
He said the situation returned to normal after the water flow was shut off and the pipeline repaired.