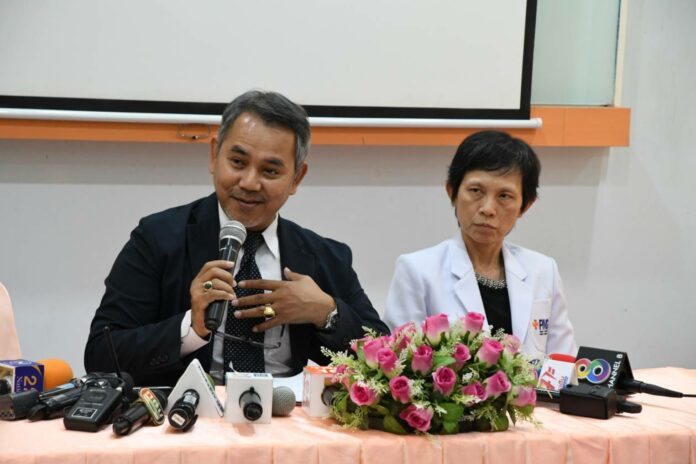 BANGKOK — A hospital that allegedly turned away a fatal acid burn victim will sue the press for defamation, its legal representative said Thursday.
Wallapha Chaiyamanowong, Praram 2 Hospital director, and her lawyer Surapat Praphaporn, held a news conference in which they vowed to press defamation charges against media that reportedly published false reports about the incident. The hospital is under fire for allegedly turning away Chorladda Tarawan, who died Saturday from acid ingestion and burns after being attacked by her husband earlier that morning.
"We will be seeking criminal prosecution against the press for presenting news that don't align with reality," Surapat said. "They presented and listened to only one side, damaging the reputation of the hospital."
Surapat said the hospital did its job in giving Chorladda treatment, and said they would stand by an account given Monday in which it claimed the victim's condition was not an emergency and that she had been scalded with hot water, not acid.
"The evidence of that has been submitted to the Ministry of Health. We went according to the process. I can't tell you about it since it is confidential," Surapat said.
The hospital is under a ministry probe and faces criminal prosecution, the results of which will be known Monday, according to Nattawuth Prasertsiripong, director general of the Health Ministry's Health Service Support Department.
"The hospital has been open for 20 years. If we were substandard, we would have closed long ago," Surapat said.
Surapat said that Peera Kananuwat, a hospital executive who got in a heated exchange with Chorladda's family's lawyer Atchariya Reungrattanapong, might be filing a case against him too.
Asked repeatedly about which of the news presented was false, Surapat said he "cannot reveal that because it would affect the criminal case."
Wallapha did not speak during the press conference, deflecting all questions to Surapat.
Related stories:
Hospital Accused of Turning Dying Woman Away Faces Criminal Prosecution
Hospital Says Acid-Burn Victim Only Scalded With Hot Water
Hospital That Refused Acid-Burned Woman Denies it Was Emergency
Woman Dies After Hospital Refuses to Treat Acid Attack by Husband