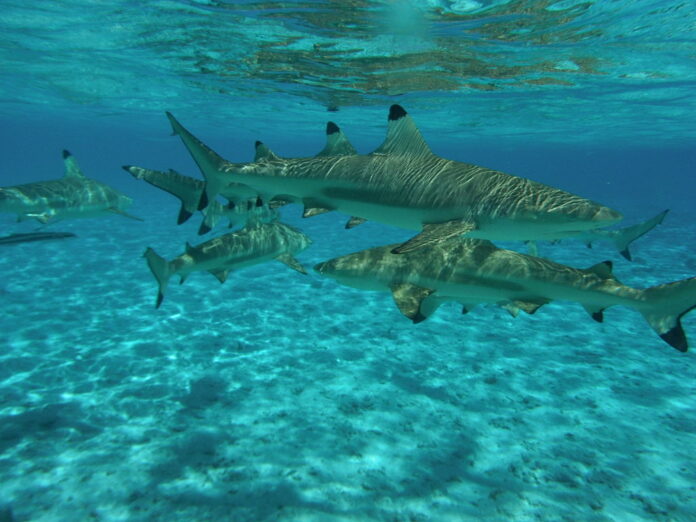 KRABI — Six months after a famous bay was declared closed to tourists, its waters have seen an increase in the population of sharks, park officials said Thursday.
Worapot Lomlim, chief of Krabi province's National Parks, said marine park officials had spotted more than 60 sharks in the area. He said the school of sharks appeared to be 100 centimeters to 120 centimeters long and weigh between 20 kilograms to 25 kilograms when they were spotted swimming as close as 2 meters from a once overcrowded beach.
When fully mature, Blacktip sharks can grow to a length of 2 meters. The animals seldom pose a danger to humans and are found in shallow seawater with tropical reefs. According to the International Union for Conservation of Nature, the sharks is classified as near threatened.
A video taken earlier this month shows a large school of what officials identified as blacktip reef sharks around Maya Bay.
The famous bay – which was the setting of the famous movie "The Beach" starring Leonardo Dicaprio – has been closed to tourists since June. In October, the government announced its indefinite closure so nature could regenerate.
Park officials said the sharks were swimming in the area for as long as four hours in waters up to 30 centimeter deep the day they were spotted.
Worapot called the sight – captured in the near two-minute video – a "wonder" that has not been seen in decades.
He attributed it to the tourists ban, adding that many other rare marine creatures were returning to their original habitat in the area because they hadn't been disturbed by tourists.