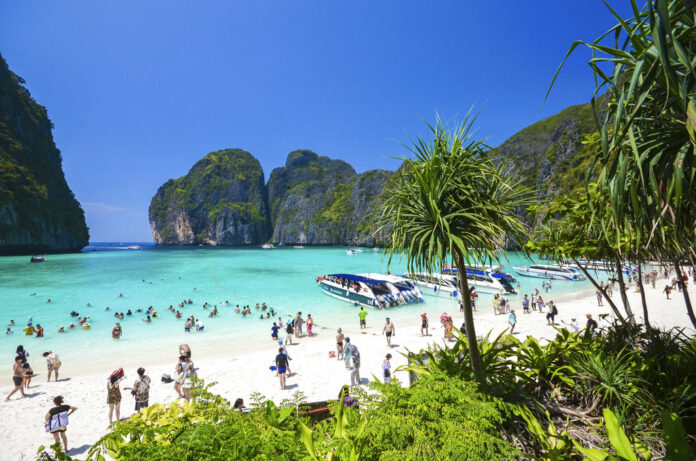 KRABI — Sorry, tourists, that famous Thai beach Leonardo DiCaprio once set foot on will now remain closed indefinitely.
Initially set to reopen next month, Krabi province's Maya Beach – which became world-famous as a setting for Hollywood film "The Beach" in 2000, won't welcome any visitors until the ecology there rejuvenates to its "original state," a conservation department official announced Tuesday.
"Experts have expressed concerns that there is still not enough [time] for the coral and the newly planted forest to be revived," said Vorapot Lomlim of the Hat Noppharat Tara and Phi Phi Marine National Park.
He added that more than 1,000 coral have been planted in the bay, with more to come soon. Still, they'll take years to be fully grown.
Officials first announced in March that the beach would be off limits to tourists from June to September, later extended to November, from concerns that the massive influx of visitors was posing a serious harm to its ecology, especially the coral.
Vorapot today said the department could not set a schedule for the rehabilitation process.
The decision to shut off the beach has been met with both praise from environmentalists and complaints from those in the tourism industry.
Watpol Chantaro, president of Phi Phi Leh Island travel business association, said of the latest announcement that it would badly impact local tourism.
He said the authorities did not inform the island business guild each time they would delay the beach reopening, preventing tourists from visiting the place even though they booked the service in advance.
The association will hold a meeting next week to discuss solutions and will petition the provincial governor and related government agencies later on, Watpol added.
Related stories:
Look Don't Touch: Maya Beach Cordoned Off From Boats
Maya Beach of 'The Beach' Fame Set for Tourism Respite
'The Beach' Beach on Phi Phi Leh Gets Vacation From Tourists