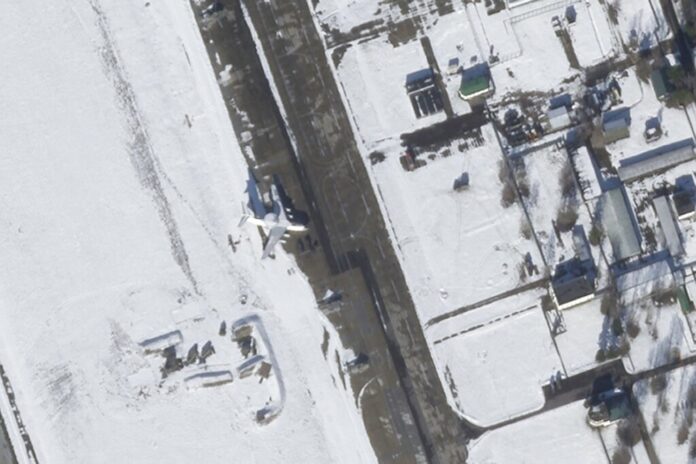 KYIV, Ukraine (AP) — Drones that the Kremlin said were launched by Ukraine flew deep inside Russian territory, including one that got within 100 kilometers (60 miles) of Moscow, signaling breaches in Russian defenses as President Vladimir Putin ordered stepped-up protection at the border.
Officials said the drones caused no injuries and did not inflict any significant damage, but the attacks on Monday night and Tuesday morning raised questions about Russian defense capabilities more than a year after the country's full-scale invasion of its neighbor.
Ukrainian officials did not immediately take responsibility, but they similarly avoided directly acknowledging responsibility for past strikes and sabotage while emphasizing Ukraine's right to hit any target in Russia.
Although Putin did not refer to any specific attacks in a speech in the Russian capital, his comments came hours after the drones targeted several areas in southern and western Russia. Authorities closed the airspace over St. Petersburg in response to what some reports said was a drone.
Also Tuesday, several Russian television stations aired a missile attack warning that officials blamed on a hacking attack.
The drone attacks targeted regions inside Russia along the border with Ukraine and deeper into the country, according to local Russian authorities.
A drone fell near the village of Gubastovo, less than 100 kilometers (60 miles) from Moscow, Andrei Vorobyov, governor of the region surrounding the Russian capital, said in an online statement.
The drone did not cause any damage, Vorobyov said, but it likely targeted "a civilian infrastructure object."
Pictures of the drone showed it was a small Ukrainian-made model with a reported range of up to 800 kilometers (nearly 500 miles) but no capacity to carry a large load of explosives.
Russian forces early Tuesday shot down another Ukrainian drone over the Bryansk region, local Gov. Aleksandr Bogomaz said in a Telegram post.
Three drones also targeted Russia's Belgorod region on Monday night, with one flying through an apartment window in the capital, local authorities reported. Regional Gov. Vyacheslav Gladkov said the drones caused minor damage to buildings and cars.
The Russian Defense Ministry said Ukraine used drones to attack facilities in the Krasnodar region and neighboring Adygea. It said the drones were brought down by electronic warfare assets, adding that one of them crashed into a field and another diverted from its flight path and missed a facility it was supposed to attack.
Russia's state RIA Novosti news agency reported a fire at the oil facility, and some other Russian reports said that two drones exploded nearby.
While Ukrainian drone strikes on the Russian border regions of Bryansk and Belgorod have become a regular occurrence, other strikes reflected a more ambitious effort.
Some Russian commentators described the drone attacks as an attempt by Ukraine to showcase its capability to strike deep behind the lines, foment tensions in Russia and rally the Ukrainian public. Some Russian war bloggers described the raids as a possible rehearsal for a bigger, more ambitious attack.
Andrei Medvedev a commentator with Russian state television who serves as a deputy speaker of Moscow's city legislature and runs a popular blog about the war, warned that the drone strikes could be a precursor to wider attacks within Russia that could accompany Ukraine's attempt to launch a counteroffensive.
"The strikes of exploding drones on targets behind our lines will be part of that offensive," Medvedev said, adding that Ukraine could try to extend the range of its drones.
Russia hawks urged strong retaliation. Igor Korotchenko, a retired Russian army colonel turned military commentator, called for a punishing strike on the Ukrainian presidential office in Kyiv.
Another retired military officer, Viktor Alksnis, noted that the drone attacks marked the expansion of the conflict and criticized Putin for failing to deliver a strong response.
Also on Tuesday, authorities reported that airspace around St. Petersburg, Russia's second-largest city, was temporarily closed, halting all departures and arrivals at the main airport, Pulkovo. Officials did not give a reason for the move, but some Russian reports claimed that it was triggered by an unidentified drone.
The Russian Defense Ministry said it was conducting air defense drills in western Russia.
Last year, Russian authorities repeatedly reported shooting down Ukrainian drones over annexed Crimea. In December, the Russian military said Ukraine used drones to hit two bases for long-range bombers deep inside Russian territory.
Speaking at Russia's main security agency, the FSB, Putin urged the service to tighten security on the Ukraine border.
_____
While the attacks apparently did not inflict any significant damage, their number and scope posed a new challenge to Russia as the war dragged into a second year. One assault came as close as 100 kilometers (60 miles) from Moscow.
Some observers said the strikes could be a rehearsal for a broader Ukrainian attack on facilities deep inside Russia.
Here is a look at drone attacks on Russia, their results and implications.
HAS UKRAINE LAUNCHED DRONE ATTACKS BEFORE?
Russian authorities have long accused Ukraine of launching regular drone attacks on power plants, oil refineries and other targets in western regions of Russia near the border.
Russian authorities also have reported repeated Ukrainian drone attacks on Crimea, most of which targeted the port of Sevastopol that hosts the main Russian naval base on the Black Sea peninsula that Moscow illegally annexed in 2014.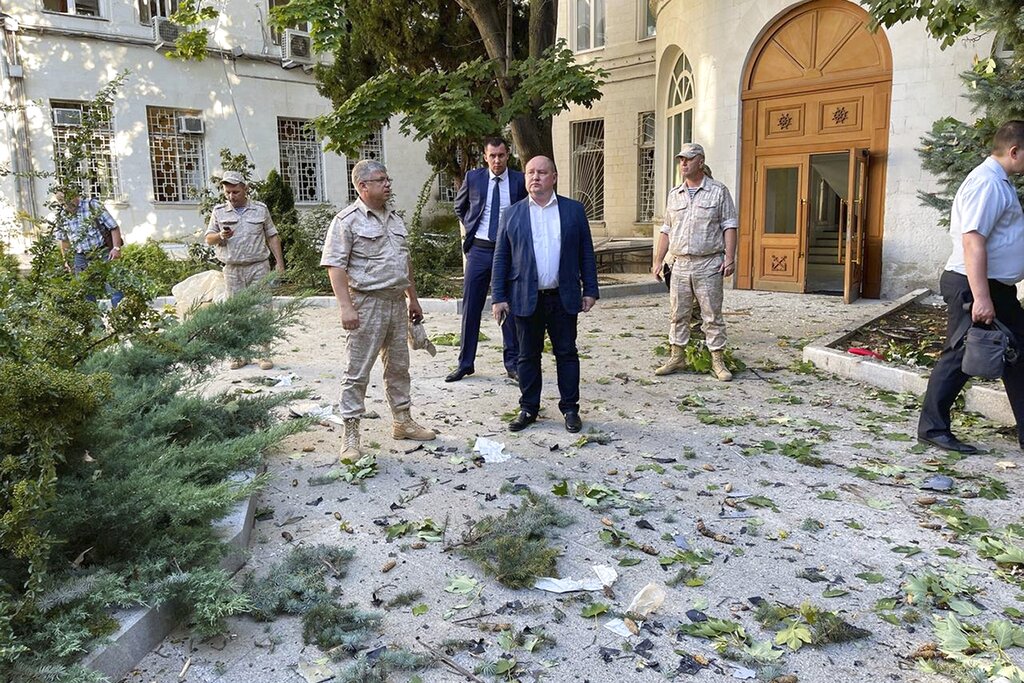 In December, the Russian military reported several Ukrainian drone attacks on long-range bomber bases deep inside Russia. The Russian Defense Ministry said the drones were shot down, but it acknowledged that their debris damaged some aircraft and killed several servicemen.
After each of those strikes, Ukrainian officials stopped short of openly claiming responsibility but emphasized the country's right to strike any target in response to the Russian aggression.
In some cases, Ukrainian authorities took responsibility for the attacks deep behind the front line. That's what happened when Ukraine's top military officer took credit for ordering the August strikes on air bases in Crimea weeks after they occurred.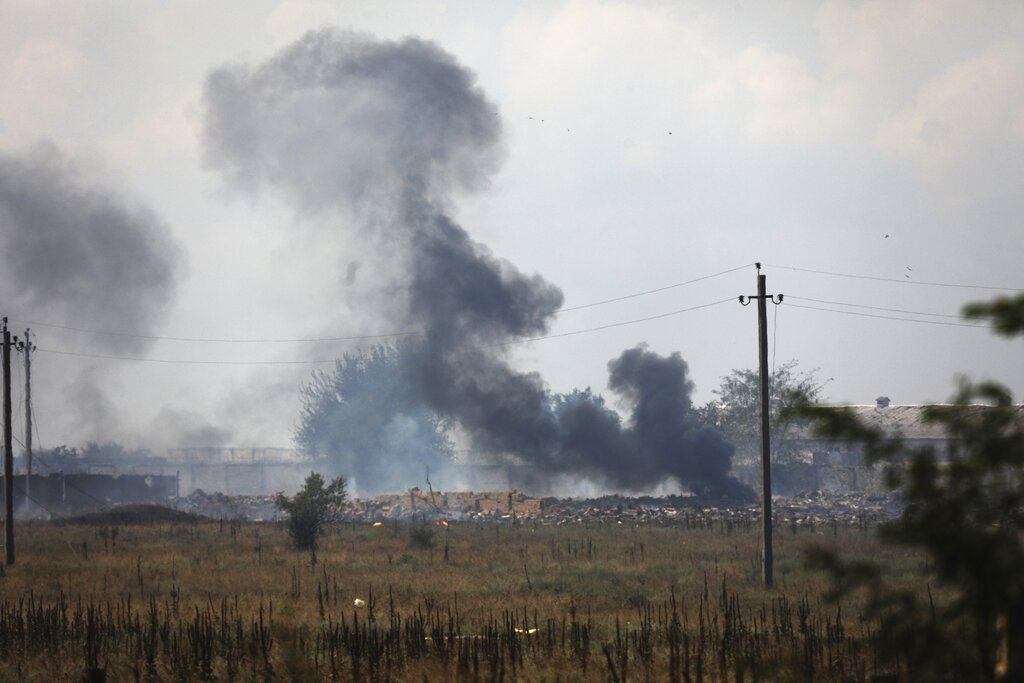 WHAT AREAS DID THE LATEST DRONE ATTACKS TARGET?
Late Monday, four small drones targeted the city of Belgorod, including one that reportedly flew into an apartment window.
Another drone was downed early Tuesday over the neighboring Bryansk region in western Russia, according to local officials.
On Tuesday, a drone also hit an oil refinery in the southern port of Tuapse in Russia's Krasnodar region, damaging some equipment but missing oil reservoirs. Some Russian reports identified the aerial vehicle as an Israeli-made Aerostar drone.
Another drone, reportedly a massive Soviet-built jet-powered Tu-141 Strizh, fell into a field in the neighboring region of Adygea, damaging a farm building.
Finally, a drone crashed on the edge of a forest close to a gas compressor station near the village of Gubastovo, less than 100 kilometers (60 miles) southeast of Moscow. While it inflicted no damage, the drone appeared to target a major natural gas pumping facility and marked the closest strike yet to the Russian capital.
Russian reports identified the drone that fell near Gubastovo as a UJ-22, a small Ukrainian-made reconnaissance drone that also can carry about 20 kilograms (44 pounds) of explosives and has a range of autonomous flight of up to 800 kilometers (about 500 miles).
Ukrainian officials have not claimed responsibility for any of the attacks.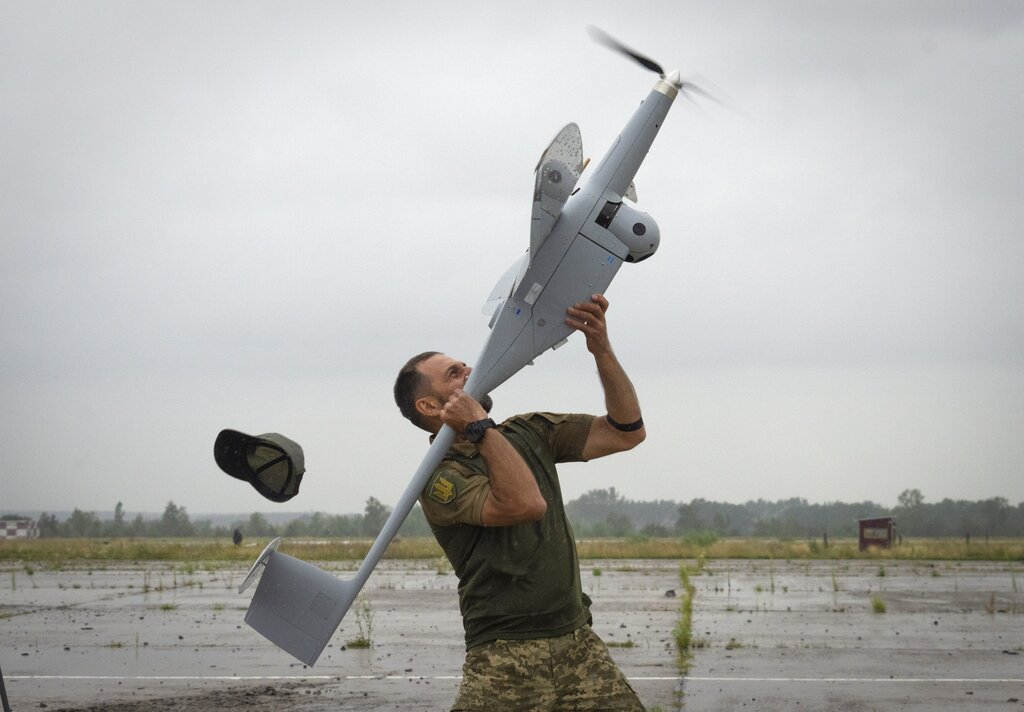 On Tuesday, Russian authorities also briefly closed the airspace over St. Petersburg, the country's second-largest city. Some reports alleged that an unidentified drone was spotted in the area, while the Defense Ministry said the skies around the city were closed as part of air defense drills.
On Sunday, Belarusian opposition activists claimed a military air base outside Belarusia's capital that hosts Russian warplanes came under attack by Belarusian guerrillas supporting Ukraine. They said the assault left a Russian A-50 early warning and control aircraft seriously damaged, although Tuesday's satellite images showed no visible signs of damage to the aircraft. Some activists claimed the attack involved drones, while Belarusian and Russian officials made no comment.
Russia used the territory of its ally Belarus to invade Ukraine a year ago and maintained a contingent of troops, warplanes and other weapons on Belarusian territory.
WHAT DID RUSSIAN OFFICIALS SAY?
The Russian Defense Ministry said its anti-drone jamming systems helped fend off Tuesday's attack in Tuapse, causing the drone to veer off its course and miss its intended target, and made another Ukrainian drone crash into a field in Adygea.
Andrei Vorobyov, the governor of the Moscow region who reported the drone attack near Moscow, said it apparently targeted civilian infrastructure but inflicted no damage.
In Belgorod, local officials reported minor damage from drone strikes and said that residents of an apartment hit by drone were evacuated.
Without directly referring to the latest drone attacks, Russian President Vladimir Putin demanded that authorities tighten protection of the border with Ukraine to prevent any incursions or attacks.
WHAT ARE THE POTENTIAL IMPLICATIONS?
Tuesday's attacks again signaled Russia's vulnerabilities and apparent breaches in the country's air defenses.
Some Russian commentators described the drone strikes as part of Ukrainian efforts to fuel tensions in Russia and rally the Ukrainian public amid a grinding battle for control of the country's eastern industrial heartland known as the Donbas, where Russian forces are besieging the Ukrainian stronghold of Bakhmut.
But some Russian war bloggers warned that Tuesday's strikes could be part of Ukrainian efforts to probe Russia's defenses and detect its vulnerabilities ahead of a more massive drone attack that could be launched to support Ukraine's future counteroffensive.
In an apparent reflection of official concerns about the increasing threat of Ukrainian drone attacks, the Russian military recently has deployed air defense systems in several locations around Moscow, including the rooftop of the main Defense Ministry building facing the Gorky Park.