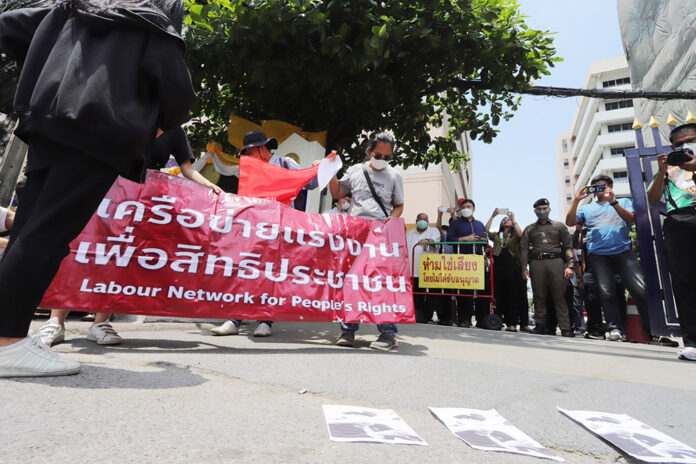 The Labour Network for People's Rights, which includes the Migrant Working Group (MWG), protested in front of the Ministry of Labour on May 9, 2023, while reading the declaration of their activities for International Workers' Day in front of the entrance of the Ministry of Labour on the side of the Thai-Japanese Youth Centre in Bangkok to counter Suchat Chomklin, the Minister of Labour, who was threatening to sue migrant workers under Section 112 and suspend their rights to work in the Kingdom.
The network said that this year's event was held during the election campaign, so they did not only make demands on workers but rather talked about national policies related to workers. On that day, a Cambodian national gave a speech about national discrimination and the double standard of being treated as a "foreign worker".
However, during the speech, a group of protesters, 24th June Democracy, held up a sign reading "Reform the monarchy, Create the welfare" to highlight their demands. The network stressed that the speaker, who was talking about transnational workers, had nothing to do with the political protest group.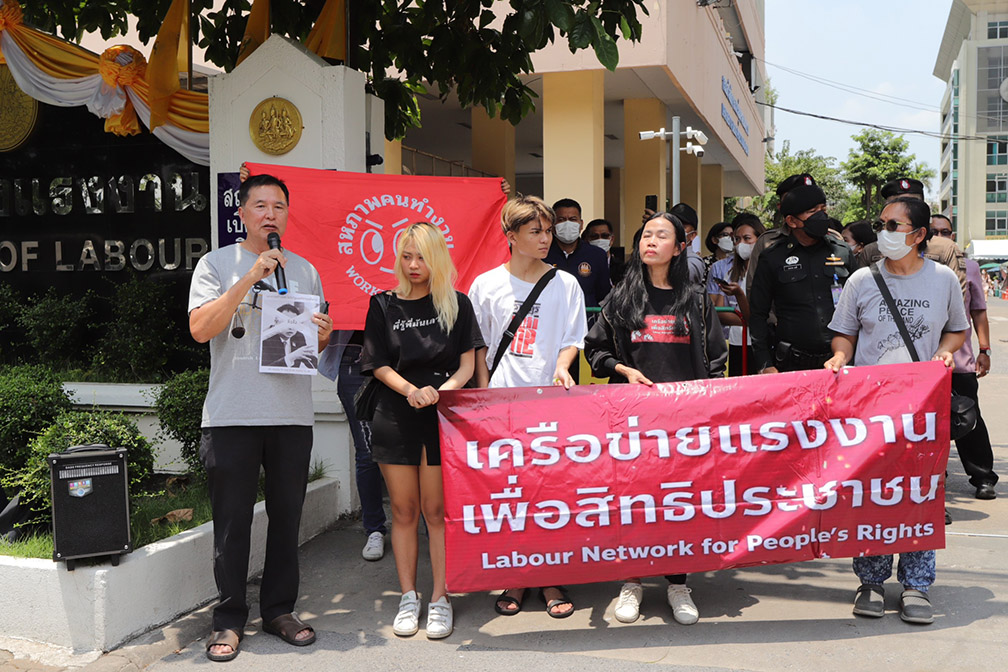 After the event, far-right media outlets such as Thaipost, Top News and the Labour Minister's Facebook page spread disinformation and misinformation slamming migrant workers as "ungrateful to [Thailand]" or "don't know your place". It is reported that many migrant workers received threatening phone calls saying they would be sued under Section 112.
The statement highlights that Section 112 has been used to restrict and manipulate people's freedom to express their opinions in order to attack political enemies including the working class. The impact of restricted freedom has also affected the living conditions of workers.
The arrest, impeachment and harassment of innocent people is a tyranny on the workers who are suffering hardship in their financial situation. Even if the demand is not about royal reformation, workers are conditioned not to speak about their suffering as the Thai Labour Minister threatens to suspend their rights to work.
The network then condemned Thai Labour Minister Suchat Chomklin and the far-right media, calling on them to stop spreading fake news.