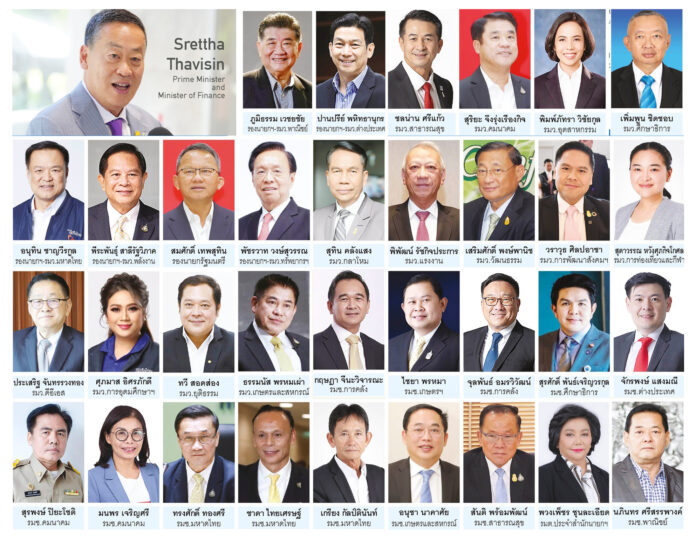 The new Srettha Thavisin Cabinet has been royally appointed Saturday, September 2. Here are the Cabinet members:
Prime Minister Srettha Thavisin
Deputy Prime Minister
Phumtham Wechayachai
Somsak Thepsutin
Panpree Phahitthanukorn
Anutin Charnvirakul
Pol. Gen. Patcharawat Wongsuwan
Pirapan Salirathaviphak
Ministry of Finance
Srettha Thavisin, minister
Krisada Chinawicharana, deputy minister
Julapan Amornvivat, deputy minister
Ministry of Interior
Anutin Charnvirakul, minister
Chada Thaiseth, deputy minister
Songsak Thongsri, deputy minister
Kriang Kalptinan, deputy minister
Ministry of Commerce
Phumtham Wechayachai, minister
Napinthorn Srisanpang, deputy minister
Ministry of Foreign Affairs
Panpree Phahitthanukorn, minister
Jakkapong Sangmanee, deputy minister
Ministry of Public Health
Chonnan Srikaew, minister
Santi Promphat, deputy minister
Ministry of Transport
Suriya Juangroongruangkit, minister
Surapong Piyachot, deputy minister
Monporn Charoensri, deputy minister
Ministry of Education
Pol. Gen. Permpoon Chidchob, minister
Surasak Phanchareonworakul, deputy minister
Office of the Prime Minister
Puangpet Chunla-iad, minister
Ministry of Agriculture and Cooperatives
Thammanat Phromphao, minister
Anucha Nakasai, deputy minister
Chaiya Phromma, deputy minister
Minister of Social Development and Human Security
Warawut Silpa-archa
Minister of Justice
Pol Col Tawee Sodsong
Minister of Energy
Pirapan Salirathaviphak
Minister of Industry
Pimpatra Wichaikul
Minister of Digital Economy and Society
Prasert Chanruangthong
Minister of Defense
Suthin Klangsaeng
Minister of Tourism and Sports
Sudawan Wangsupakitkosol
Minister of Culture
Sermsak Pongpanich
Minister of Labor
Pipat Ratchakitprakarn
Minister of Higher Education, Science, Research and Innovation
Supamas Isaraphakdi
Minister of Natural Resources and Environment
Pol. Gen. Patcharawat Wongsuwan
As part of the governing process, the Cabinet will not be operational until it presents its policies to Parliament within 15 days of being royally appointed.
______
Related articles:
Srettha and the New Government May Start Work as Early as Mid-September