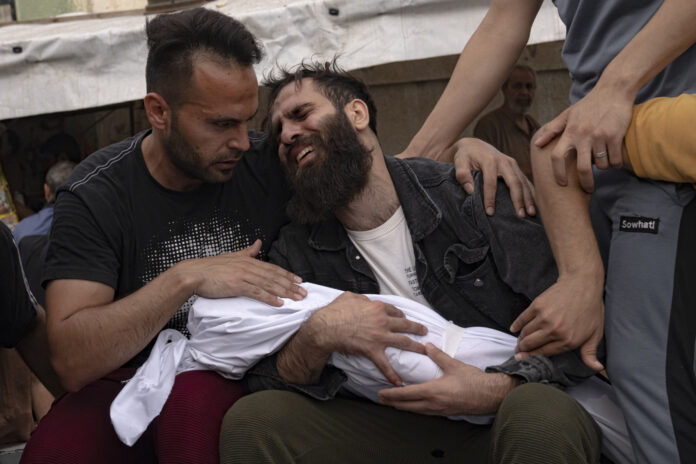 DEIR AL-BALAH, Gaza Strip (AP) — Thousands of people broke into aid warehouses in Gaza to take flour and basic hygiene products, a U.N. agency said Sunday, in a mark of growing desperation three weeks into the war between Israel and Gaza's militant Hamas rulers.
Tanks and infantry pushed into Gaza over the weekend as Israeli Prime Minister Benjamin Netanyahu announced a "second stage" in the war, which was ignited by Hamas' brutal Oct. 7 incursion into Israel. Israel also pounded the territory from air, land and sea.
Gaza's Health Ministry said the death toll among Palestinians has passed 8,000 — mostly women and minors. It's a toll without precedent in decades of Israeli-Palestinian violence. Over 1,400 people have died on the Israeli side, mainly civilians killed during the initial Hamas onslaught.
Communications were restored to much of Gaza early Sunday after a bombardment described by residents as the most intense of the war knocked out most contact with the territory late Friday. The besieged enclave's 2.3 million people were largely cut off from the world.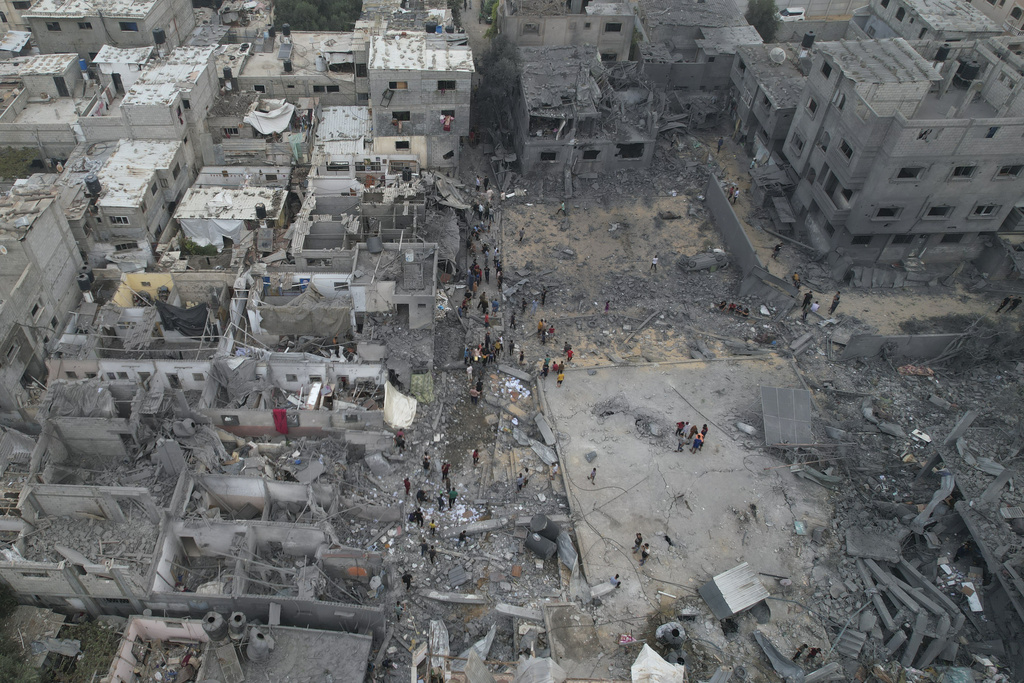 In other developments, the chief prosecutor of the International Criminal Court visited the Rafah border crossing, which is Gaza's only connection to Egypt. During the visit on Saturday, Karim Khan was briefed on the damage caused by Israeli airstrikes to the Palestinian side, according to a senior Egyptian official who spoke on condition of anonymity because he was not authorized to brief media. Khan's office has opened an investigation into potential war crimes by Israel in Gaza in the 2014 war.
The Israeli military said Sunday it had struck over 450 militant targets over the past 24 hours, including Hamas command centers and anti-tank missile launching positions. It said ground forces killed a number of Hamas militants as they exited a tunnel near the Erez crossing, which had been the sole pedestrian passageway into Israel before it was destroyed in the fighting.
Military officials circulated footage showing tanks and troops operating in open areas and bulldozers clearing mountains of debris. The Hamas military wing said its militants clashed with Israeli troops who entered the northwest Gaza Strip with small arms and anti-tank missiles.
The warehouse break-ins were "a worrying sign that civil order is starting to break down after three weeks of war and a tight siege on Gaza," said Thomas White, Gaza director for the U.N. agency for Palestinian refugees, known as UNRWA. "People are scared, frustrated and desperate."
UNRWA provides basic services to hundreds of thousands of people in Gaza. Its schools across the territory have been transformed into packed shelters housing Palestinians displaced by the conflict. Israel has allowed only a small trickle of aid to enter from Egypt.
Juliette Touma, a spokesperson for the agency, said the crowds broke into four facilities on Saturday. She said the warehouses did not contain any fuel. It has been in critically short supply since Israel cut off all shipments after the start of the war, saying Hamas would use it for military purposes.
One warehouse held 80 tons of food, the U.N. World Food Program said in a statement. The agency also said at least 40 of its trucks need to cross into Gaza daily to meet growing needs there.
Israeli authorities said Sunday that they would soon allow more humanitarian aid to enter Gaza, though details remained unclear.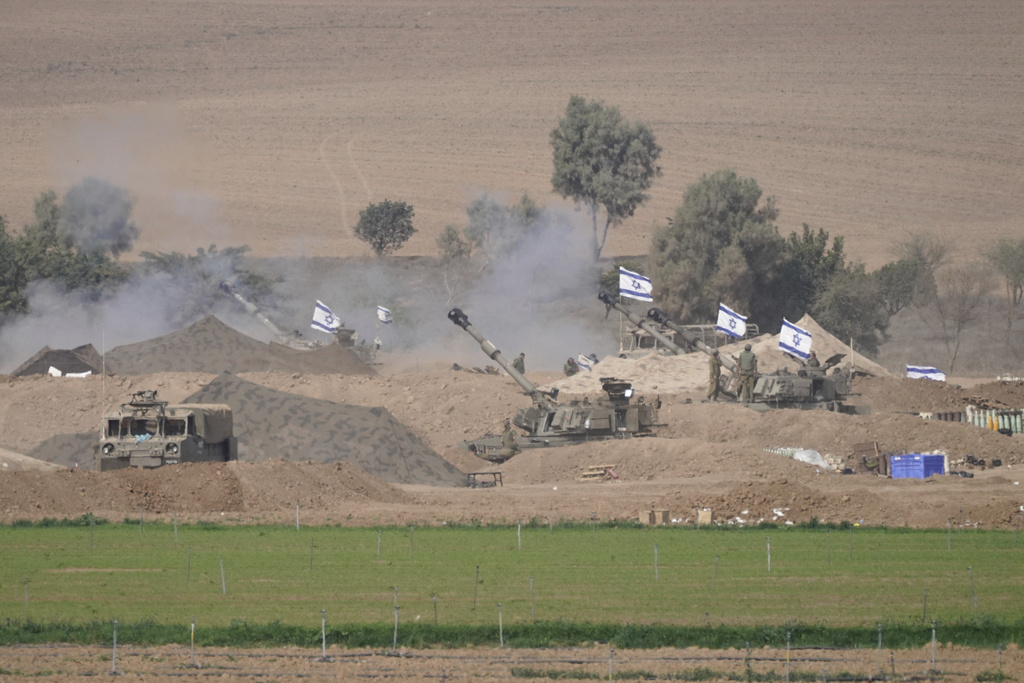 Elad Goren, the head of civil affairs of COGAT, the Israeli defense body responsible for Palestinian civilian affairs, said Israel had established a "humanitarian zone" near the southern city of Khan Younis and recommended that Palestinians flee there.
But he provided no details on the exact location or how much aid would be available. He also said Israel has opened two water lines in southern Gaza within the past week. The AP could not independently verify that either line was functioning.
Meanwhile, residents living near Shifa Hospital, Gaza's largest, said Israeli airstrikes overnight hit near the hospital complex and blocked many roads leading to it. Israel accuses Hamas of having a secret command post beneath the hospital but has not provided much evidence. Hamas denies the allegations.
Tens of thousands of civilians are sheltering in Shifa, which is also packed with wounded patients.
"Reaching the hospital has become increasingly difficult," Mahmoud al-Sawah, who is sheltering in the hospital, said over the phone. "It seems they want to cut off the area." Another Gaza City resident, Abdallah Sayed, said the Israeli bombing over the past two days was "the most violent and intense" since the war started.
The Palestinian Red Crescent rescue service said another Gaza City hospital received two calls from Israeli authorities on Sunday ordering it to evacuate. It said airstrikes have hit as close as 50 meters (yards) from the Al-Quds Hospital, where 14,000 people are sheltering.
Israel ordered the hospital to evacuate more than a week ago, but it and other medical facilities have refused, saying evacuation would mean death for patients on ventilators.
"We reiterate — it's impossible to evacuate hospitals full of patients without endangering their lives," World Health Organization Director-General Tedros Adhanom Ghebreyesus said on social media.
There was no immediate Israeli comment on the latest evacuation order or the strikes near Shifa.
Israel says most residents have heeded its orders to flee to the southern part of the besieged territory, but hundreds of thousands remain in the north, in part because Israel has also bombarded targets in so-called safe zones.
An Israeli airstrike hit a two-story house in Khan Younis on Sunday, killing at least 13 people, including 10 from one family. The bodies were brought to the nearby Nasser Hospital, according to an AP journalist at the scene.
The escalation has increased domestic pressure on Israel's government to secure the release of some 230 hostages seized when Hamas fighters from Gaza breached Israel's defenses and stormed into nearby towns.
Desperate family members met with Netanyahu on Saturday and expressed support for an exchange for Palestinian prisoners held in Israel. Hamas says it is ready to release all hostages if Israel releases all of the thousands of Palestinians held in its prisons. Israel has dismissed the offer.
Netanyahu said Saturday that Israel is determined to bring back all the hostages, and that the expanding ground operation "will help us in this mission."
The Israeli military said it was gradually expanding its ground operations inside Gaza, while stopping short of calling it an all-out invasion. Casualties on both sides are expected to rise sharply as Israeli forces and Palestinian militants battle in dense residential areas.
When asked about Israel's military escalation, President Joe Biden's national security adviser, Jake Sullivan, told CNN: "I will let the Israeli Defense Forces characterize their operations and how it fits into their larger plan." He stressed the imperative to protect civilians. On CBS' "Face the Nation," he said the U.S. believes "there should be humanitarian pauses to get hostages out, potentially to get aid in."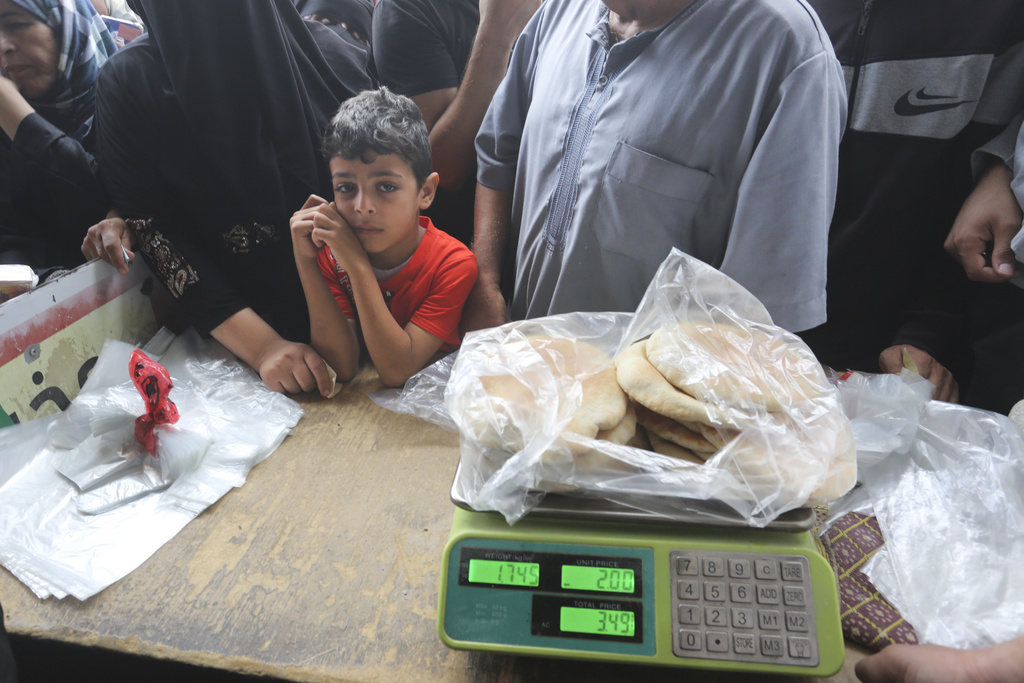 Biden planned to speak with Netanyahu later Sunday, Sullivan told CNN.
Palestinian militants have continued firing rockets into Israel, with the constant sirens in southern Israel a reminder of the threat.
Israel says its strikes target Hamas fighters and infrastructure and that the militants operate among civilians, putting them in danger. An estimated 1,800 people remain trapped beneath the rubble, according to Gaza's Health Ministry, which has said it bases its estimates on distress calls it received.
More than 1.4 million people across Gaza have fled their homes, nearly half crowding into U.N. schools and shelters.
Gaza's sole power plant shut down shortly after the start of the war. Hospitals are struggling to keep emergency generators running to operate incubators and other life-saving equipment, and UNRWA is trying to keep water pumps and bakeries running to meet essential needs.
At Nasser Hospital in Khan Younis, emergency director Dr. Mohammed Qandeel said about 20,000 civilians were sheltering there. "I brought my kids to sleep here," said one displaced resident who gave her name only as Umm Ahmad. "I used to be afraid of my kids playing in the sand. Now their hands are dirty with the blood on the floor."
___