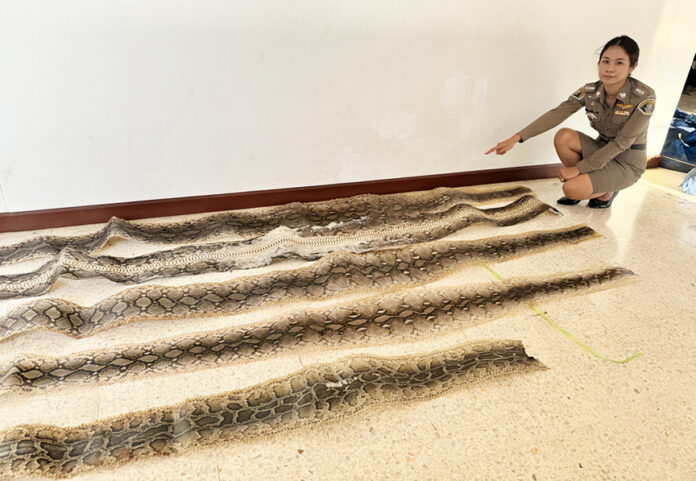 PHICHIT – Pythons can be found in general in Thailand. They help balance the ecosystem and are considered protected wild animals.
On November 20, police officers from the Natural Resources and Environmental Crime Suppression Division, or Greencop, and officials from Conservation Area Administration Office 12 (Nakhon Sawan), conducted a search in the area of Dong Pa Kham Subdistrict, Mueang District, Phichit Province, after receiving information about an illegal network dissecting pythons by skinning and selling them outside the country.
According to the search, Mrs. Sommai owns the target house. They found live pythons beneath the house. They were wrapped in blankets and tied in bags; 12 of them weighed between 11 and 15 kilogrammes each. In addition, the sacks included five sheets of dried python skin and the remains of four python bones. Mrs. Sommai was promptly arrested.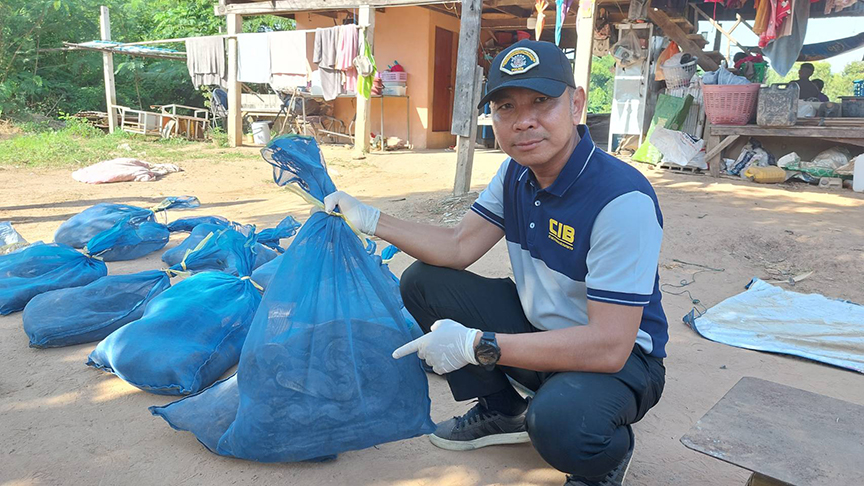 Mrs. Sommai claims that all the seized items belonged to her son-in-law and were prepared for for selling to international traffickers. But she has no idea who they are. She was transported to the Dong Pa Kham Police Station and charged with unlawful possession of protected wild animals and carcasses of protected species.
Pythons can be found in Thailand's nature beside rivers. It is considered a protected wild animal because it benefits the ecosystem. They help in the control of mammalian populations such as rats. Officials warn that if there are no pythons in the area, the ecosystem will become unbalanced.
_____
Relate articles: