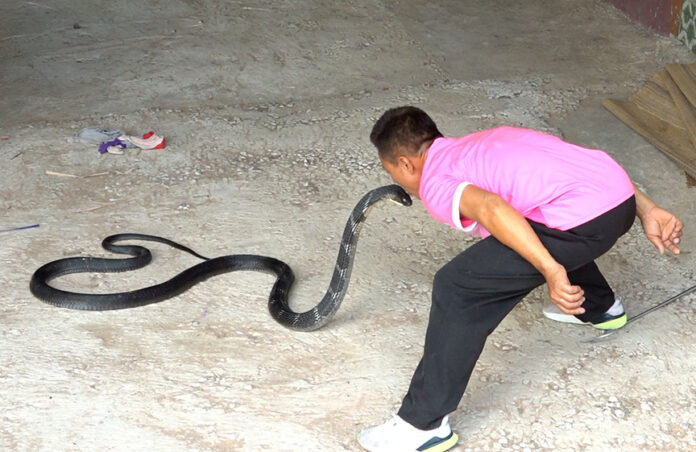 Thongkham Lukthongcahi, 62 years old, has announced his retirement from the King Cobra show, with which he made a name for himself worldwide for 30 years, as he no longer wants to risk his life after his senior died at the same age.
Thongkham welcomed the media at his home on Friday in Moo 6, Ban Khok Sangha, Sai Moon sub-district, Nam Phong district, Khon Kaen province. This village is the only snake village in Thailand. On July 14, he welcomed the media to announce his retirement from the snake business after 28 years, starting in 1995.
The walls of his house are decorated with newspapers, photos and even certificates, including two Guinness World Records certificates after he became famous as a snake show performer in Ban Khok Sangha. With his extraordinary ability to kiss snake heads, he became a distinctive figure. He then ventured outside his hometown to seek opportunities to earn a living in popular tourist destinations such as Surat Thani, Phuket and Bangkok.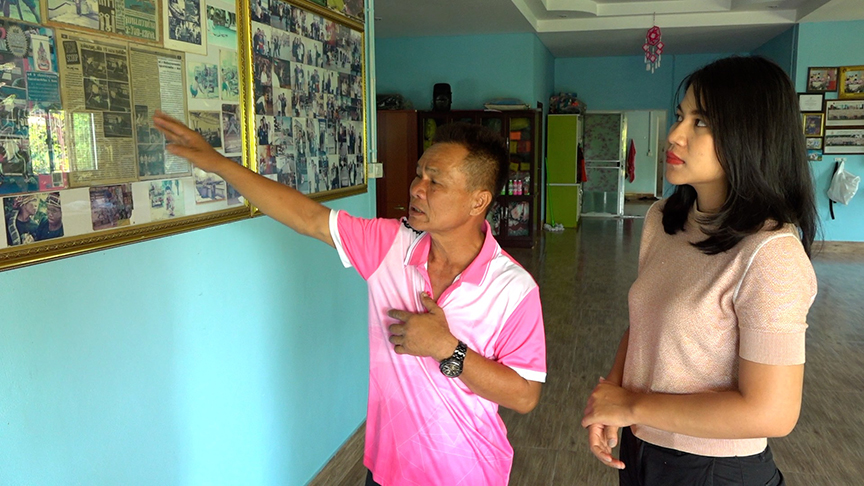 Behind his house, five king cobras are still kept in wooden cages. He seizes the opportunity and decides to put on a farewell show, this time in front of the media. He also announces that he will continue to breed the snakes for a while, but if a company contacts him, he will sell them all. The price is determined by weighing the snakes and is 1,000 baht per kilogram. The snakes currently weigh between 4 and 5 kilograms.
He expresses that he has chosen to retire because he believes that his life is complete in every way. He no longer has to make monthly installments on his car and with the post-Songkran period coming up, his wife, Mrs. Jan Dang Chai Buddi, 58, urges him to return home because she is worried and wants him to be together.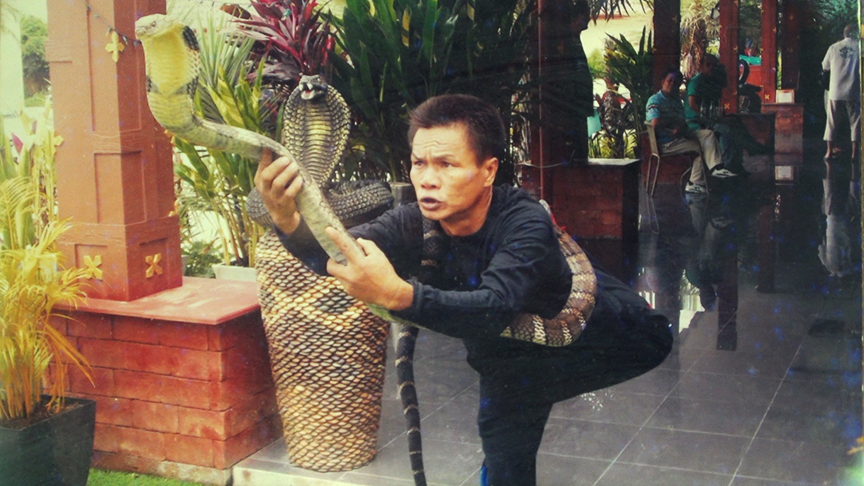 This coincides perfectly with his own feelings of contentment. Moreover, he still remembers the warning of the doctors of Queen Saovabha Memorial Institute that there is a high risk of being bitten by a king cobra for people over 60 years old. The venom can cause damage in various nervous systems.
Earlier, four members of the King Cobra Club, all aged 60 or older, had tragically lost their lives. The King Cobra Whisperer himself was bitten by cobras on four separate occasions, narrowly surviving three of those incidents. The last incident occurred in 2014 in Phuket province, where he had to spend two days in intensive care. Considering these reasons, he believes that the time is ripe and has made the official decision to announce today the end of the legend of the King Cobra King.
In 2006, Guinness World Records recognized Thongkham's remarkable feat of kissing 19 king cobras and awarded him a gold certificate at Ripley's "Believe It or Not" Museum in Pattaya, Chonburi Province.
Later, in 2010, he confirmed his extraordinary achievement by setting another world record. In Rome, Italy, he kissed 34 king cobras in just 3 minutes, earning him the applause of international spectators and the title of "King Cobra King."