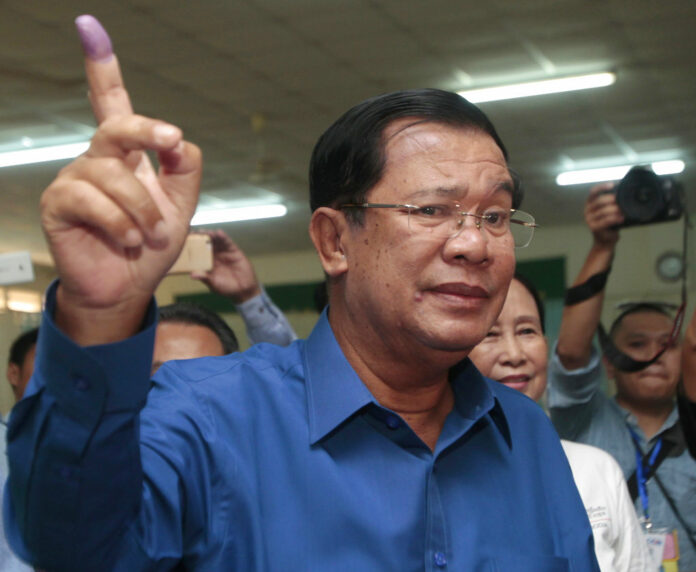 PHNOM PENH — Cambodia's government has agreed to raise the minimum wage for workers in the garment and footwear industry, a move likely aimed at winning their support ahead of a general election next year. The industry, the country's biggest export earner, employs more than 700,000 people.
The Ministry of Labor, Vocational and Training announced Thursday that the minimum wage will be raised by 11.11 percent to USD $170 a month, with USD $165 to be paid by the employers and USD $5 by the government. The new wage will become effective next year. The ministry said that when other benefits are included, workers will make an average of USD $187-198 a month next year.
Factory workers and their unions have generally supported the political opposition to Prime Minister Hun Sen, who has held power for four decades and vowed to stay on office for 10 more years.
The workers' ability to mobilize in the streets has long been a concern for the government, with workers often playing a major role in political protests, not just labor campaigns.
Four years ago, a union campaign to double the then minimum wage of USD $80 resulted in clashes with police and a crackdown on public protests. In early 2014, at least four people were killed and more than 20 injured when police on the outskirts of Phnom Penh opened fire to break up a protest by striking garment workers.
But in recent weeks, Hun Sen has been holding assemblies with vast crowds of workers, promising them better working conditions and more money and benefits.
At the same time, he has been conducting a fierce campaign of harassment against the main opposition Cambodia National Rescue Party and other rivals and critics. The opposition chief has been charged with treason for enlisting U.S. help several years ago in campaigning, and many of his colleagues have fled the country. Radio stations that broadcast other than innocuous or pro-government programming had their licenses revoked.
The Labor Ministry said the minimum wage decision was made after three days of negotiations by a commission representing employers, workers and the government.
Labor Ministry spokesman Heng Sour said it was the first time the group has reached a unanimous agreement.
Wages in Cambodia remain low by international standards, largely because of pressure to compete with other low-cost producers such as Bangladesh and Vietnam. The minimum wage had been set at USD $100 for 2014, USD $128 for 2015, USD $140 for 2016 and USD $153 this year.
Ath Thorn, president of the Coalition of Cambodian Apparel Workers' Democratic Union, who took part in the negotiations, expressed his satisfaction with the new wage because it was in the range union leaders considered acceptable.
Story: Sopheng Cheang