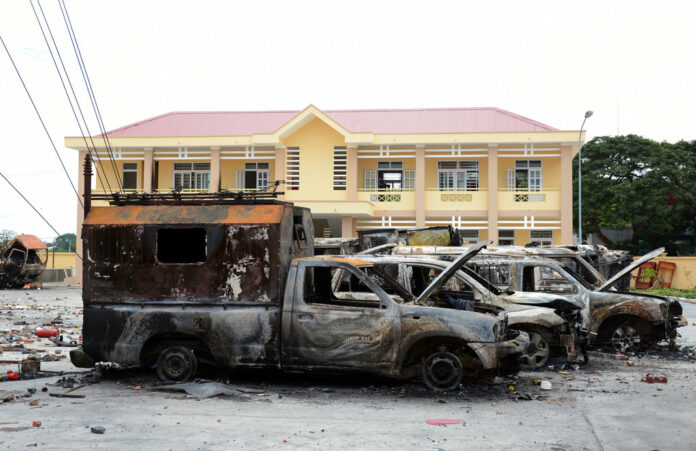 HANOI — Vietnamese police have arrested eight more people after protests a week ago over a proposed law on special economic zones that protesters fear would fall in the hands of Chinese investors, state media reported Monday.
The men from south central province of Binh Thuan were accused of disturbing public order, opposing officials and damaging state property, state-run Tuoi Tre newspaper reported.
Protests against the law took place across the country, including in the southern commercial hub of Ho Chi Minh City where seven people were arrested for allegedly disturbing security and opposing officials.
Protesters fear the three proposed special economic zones where land could be rented for up to 99 years would be dominated by investors from China.
Lawmakers have postponed the passage of the law until the next session in October to allow more research.
Speaking to voters at his constituency in Hanoi on Sunday, Communist Party General Secretary Nguyen Phu Trong said sabotaging elements have distorted the truth about the law and abused people's patriotism to instigate protests.
"The party of President Ho Chi Minh is for the country, for people and no other purposes," Trong was quoted by Tuoi Tre as telling the voters, referring to the ruling Communist Party. "No one is that foolish to hand over land to foreigners for them to mess us up. No one would be that naive."
He said land leases in the special economic zones would have to go through strict procedures and dismissed allegations that the country would be lost to China.
Vietnamese people have generally had long-running mistrust of China.
Vietnam is among the most outspoken critics of Chinese construction and militarization of artificial islands in the Spratly island chain in the South China Sea's disputed waters.