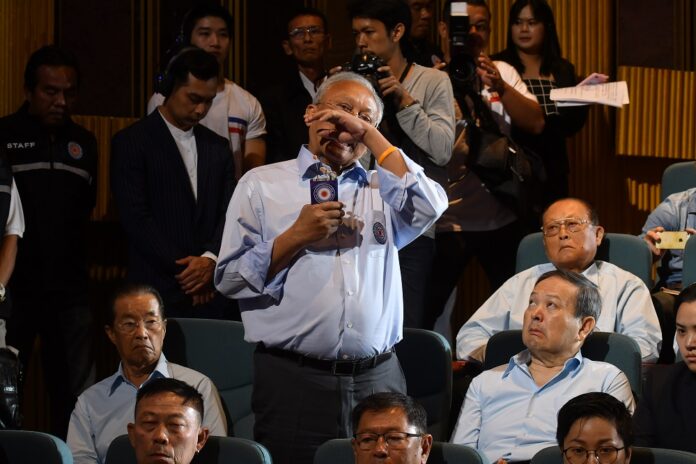 BANGKOK — A conservative party widely seen as a proxy for former firebrand activist Suthep Thaugsuban said it's willing to join hands with the party he helped drive from power.
In his appeal to the Pheu Thai Party, Anek Laothamatas, the recently named chairman of the Action Coalition of Thailand, said it's time political rivals bury the hatchet and form a "unity government" after the next election. He cited last week's historic meeting between US President Donald Trump and North Korean leader Kim Jong Un as his inspiration.
"It's not fun to have division in our country," Anek told reporters Sunday. "Even North Koreans and South Koreans – they fought till millions were dead – managed to reconcile. Even Mr. Donald Trump and Mr. Kim Jong Un managed to reconcile."
Read: New Royalist Party With Prominent Names Launches
In order to achieve that reconciliation, the veteran law scholar called on all key political parties to form a government in which they will share power and work for the good of the country. In his model for the next government, there would be no opposition elements.
He also extended an olive branch to Pheu Thai while deflecting questions about whether members of his party would embrace the party behind successive governments supported by arch-rival Redshirts.
"As for Pheu Thai Party, in their current state, they haven't done anything wrong, so we don't see them as a natural enemy. We will keep our eyes on their stances," Anek said. "But I think we shouldn't treat each other as enemies like North Korea and South Korea."
Redshirt leader Thida Thavornseth dismissed Anek's proposal as insincere posturing. She believes the power behind Action Coalition of Thailand, or ACT, is not Anek but his mentor Suthep, who led the street protests against the Pheu Thai-led government that culminated in the May 2014 coup.
"I don't trust anyone there. I only listen," Thida said in an interview Monday. "Society sees Suthep as the real leader."
She continued, "I think this is just an attempt to create some news so that ACT can stay relevant in the public eyes."
The idea of a unity government goes back to the last decade, when a number of politicos proposed it as a method to solve intractable political crises. It was never seriously considered. Critics of the idea warn it contradicts with democracy's principles of checks and balance.
The idea was resurrected in late 2017, but politicians across the spectrum rejected it as impractical.