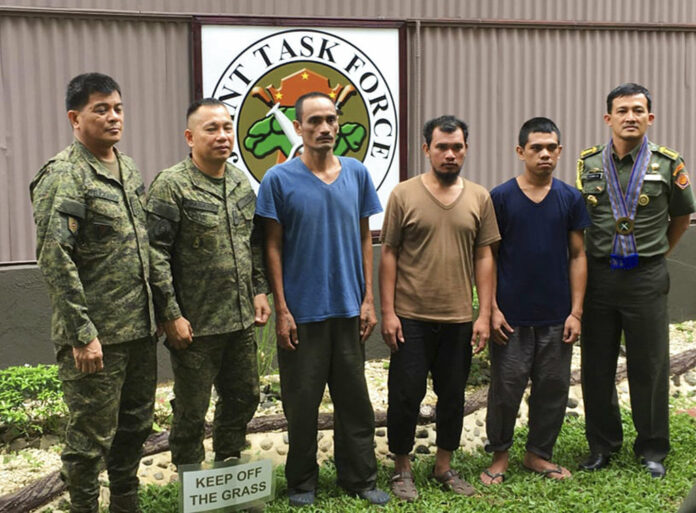 MANILA — Muslim militants have freed three Indonesian men they kidnapped at sea early last year off Malaysia then brought them to their jungle hideouts in the southern Philippines, officials said Sunday.
The Indonesians were freed Friday with the help of the Moro National Liberation Front, a rebel group that signed a peace deal with the Philippine government, in Indanan town in Sulu province, police said.
The released hostages, Hamdam Salim, Subandi Sattuh and Sudarlan Samansung, were to be handed to the Indonesian ambassador in southern Zamboanga city later Sunday, the military said.
While cruising on board a speedboat, the three were taken at gunpoint by suspected Abu Sayyaf militants off Malaysia's Sabah state on Borneo island in January last year. The hostages were brought aboard motorboats to the gunmen's jungle hideout in Sulu, a poor, predominantly Muslim province in the southern Philippines where the Abu Sayyaf has had a presence since the late 1980s, security officials said.
An Abu Sayyaf commander, Marjan Sahidjuan, who uses nom de guerre Apo Mike, led the abductors who freed the captives in exchange for a ransom, a security official said, speaking on condition of anonymity because he wasn't authorized to talk to media.
Regional military spokesman Lt. Col. Gerry Besana said the military is unaware of any ransom payment and added that relentless offensives pressured the kidnappers to let go of their hostages.
Efforts by the Philippines, Malaysia and Indonesia to beef up security along their massive sea border have considerably eased piracy and kidnappings in the past months primarily by the Abu Sayyaf, which is blacklisted by the United States and the Philippines as a terrorist organization.
The Philippine police, however, said that the two Indonesian skippers of a Malaysian fishing boat were abducted on Tuesday off Semporna Islands in Sabah, Malaysia, and also taken by suspected militants armed with M-16 rifles toward the southern Philippines.
The Philippine military said it was trying to confirm the reported kidnapping.
Story: Jim Gomez