BANGKOK —Instead of staying home like most of her friends, Pornthipa Boonmart on Wednesday went to her spot on Soi Sukhumvit 5 where she has sold goods to passers-by for over 30 years.
Under the watchful eyes of officers there to end the practice, the 49-year-old hung shoes from the railing of a Thanachart Bank branch. The officers seemed okay with that, so long as she didn't take space with a table.
"I have a lot of Arab customers here. They buy a dozen pairs of shoes at once while Thais usually only buy one at a time," she said.
But otherwise the scene there looked very different than before.
Instead of the usual stalls selling counterfeit brand name clothes, pirated DVDs and other cheap goods, the sidewalks of three landmark areas – Siam, Silom and Nana – Wednesday night were packed with municipal security officers.
Months of flaccid efforts to end the sidewalk commerce routinely associated with those areas, action was finally taken this week and for now success seems to belong to the Bangkok Metropolitan Administration.
Since the latest in a series of its ultimatums for vendors to clear out came Monday, no stalls have been able to open as dozens of officers and officials have been dispatched to prevent it.
The result? Footpaths that appear wider than ever, with enough space for two pedestrians to walk side-by-side.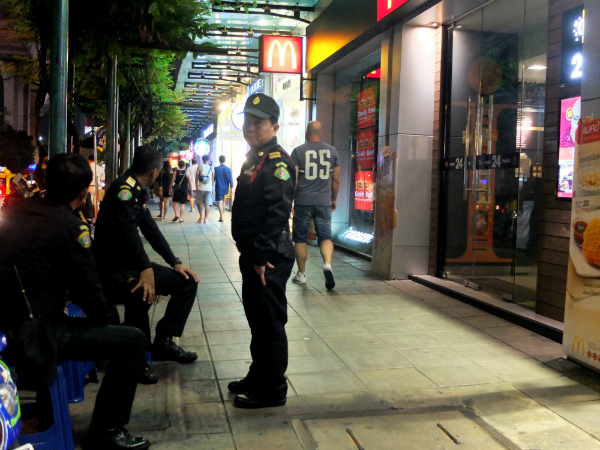 "The problem should have ended long ago," said Penpit Supawaropas, who has walked along that stretch of Rama I Road nearly every evening since high school. "This way we won't have trouble if any emergency happens."
While stalls and markets elsewhere have had their defenders, those who all but block traffic flow in front of Siam Square are widely reviled. The 26-year-old said the goods sold there really were "not as cheap as we thought," and believes the vendors exploit others who pay high rent to secure their business at one of Bangkok's most expensive areas.
Poverty was brought up by vendors as to why they cannot afford to rent a proper storefront. Some complained that an alternate site offered by the city for them to move, which is under a tollway on Rama VI Road, is far from ideal.
"It is not an area where commuters usually pass by," said Suchada Rangabpai, a 38-year-old shoe seller said Wednesday at Siam Square. "We can clearly tell we won't be able to sell there."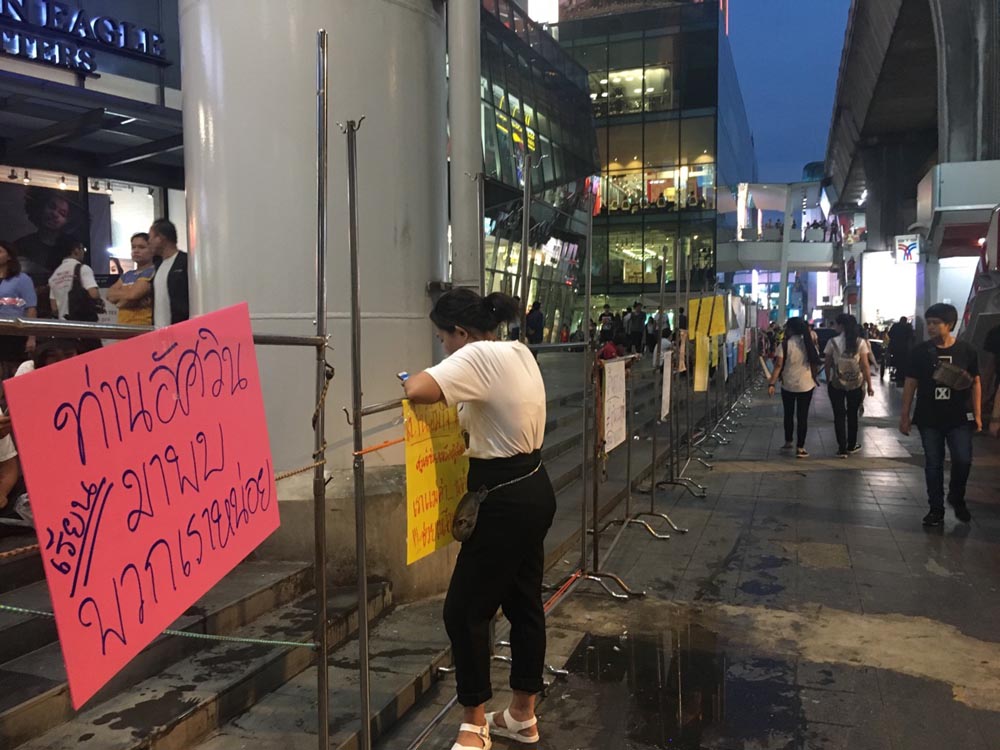 Shady Sales
The effort to clear the sidewalks of Siam goes back to before the coup, when the city began its cleanliness and order campaign that has seen the end of many other famous street markets.
Unlike other locations, Siam has been in conflict since 2010 when landowner Chulalongkorn University first tried and failed to clear sweep the vendors out.
People often attribute that to organized criminal elements believed behind the ad hoc market. It's an open secret that there are people the vendors pay for "permission" to set up there.
Previous attempts to evict the sellers were met with acts of vandalism taken as a threat of menace to the university.
On Wednesday night, a group of men demanded that a reporter covering a protest by vendors there identify herself and explain what the angle of her story would be.
In the end, the protest at Siam ended Wednesday night with 10 representatives selected to take a single demand to City Hall: They must be able to continue selling.
Thursday morning the city rejected that demand.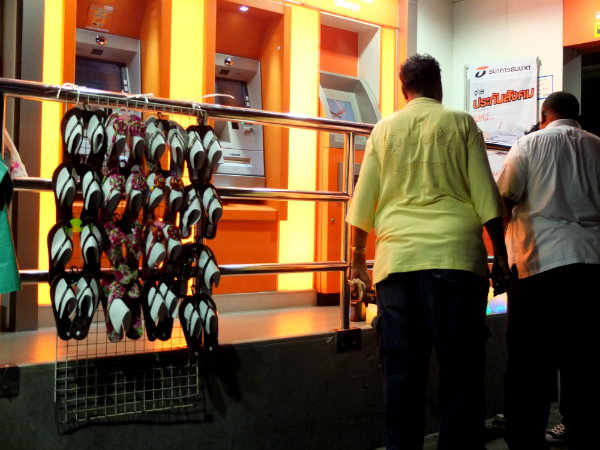 Some vendors have said they have paid bribed to city officers called tessakit to use the space. A pad Thai vendor in Soi Sukhumvit 19 recently said she pays 3,000 baht each month.
No protest was visible on upper Silom Road or the odd-numbered sois along the Nana stretch of Sukhumvit Road.
Vendors however said they want to petition for the same right to continue selling.
"Reorganization means to regulate us – not clear us out," said Yindee Metmerurat, a 54-year-old Nana knick-knack vendor. She filed a complaint addressed to junta chief Gen. Prayuth Chan-ocha last week.