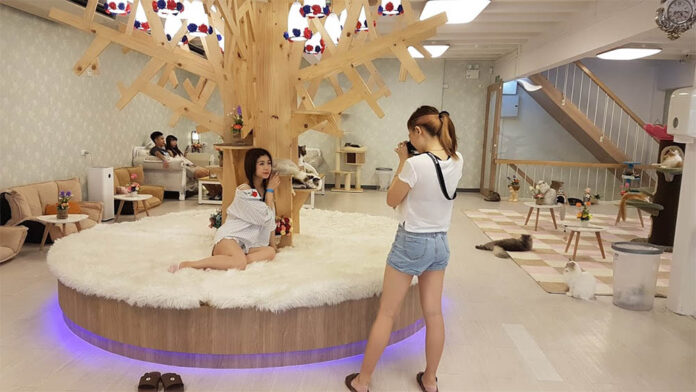 BANGKOK — A controversial animal cafe has been ordered shut by the authorities.
Kitties and Bears in Siam Square, where a former manager said more than a dozen animals died of neglect, will close on the order of Pathum Wan district officials. The animal cafe's last day is Sunday.
District director Nawaporn Klinbuakaew said the cafe was operating illegally and in violation of numerous regulations. One of the main reasons, she said, is that it houses a large number of domestic and wild animals alongside food service. She said she found the smell unacceptable on each floor when she visited it.
Read: Owner of Cafe Where Animals Died Sorry For 'Lapses'
The cafe did not have a valid permit in the first place, she added, saying the owner had misrepresented his plans to landowner Chulalongkorn University by saying he was opening a dessert cafe, not an animal cafe.
Kitties and Bears has 40 to 50 animals, wild and domesticate, including meerkats and raccoons.
The owner is Jonathan Tan, who in April was fined and jailed in Singapore for falsifying health records at a cat cafe where a number of cats died. His former employees said Tan did not provide proper care for the animals.
He moved to Bangkok and opened Kitties and Bears in July. Last month, a former manager went public with allegations that more than a dozen animals died of neglect, including dogs that died of parvovirus, a disease easily prevented by routine vaccination.
After an animal advocacy group led police to investigate, Tan told Khaosod English earlier this month he was sorry for what he described as "lapses" that resulted in animals dying.
Kitties and Bears has since taken to social media to discourage customers from believing what they've read. On Friday, it announced its closure.
"We have very sad news for you. In lieu of the internet scandal, we are being forced to close down the cafe," was written today on its Facebook page. "We are sorry that it is very sudden, but we were not given much time by the authorities."
The announcement also called for adoptees for the cafe's dogs.
Additional reporting Todd Ruiz
Related stories: