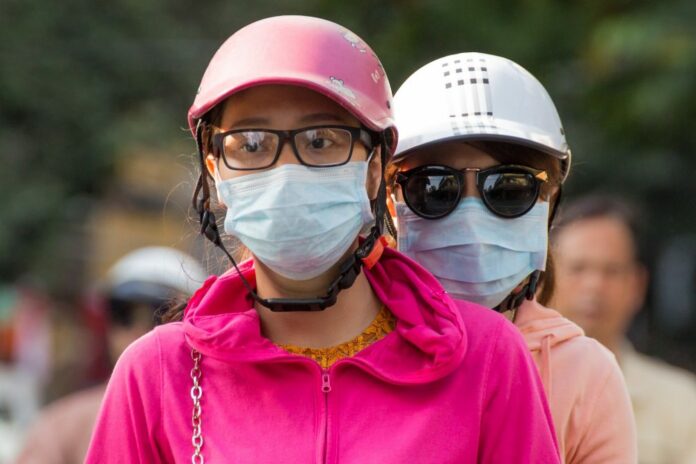 BANGKOK — Throats are sore, breathing is labored and eyes itching in Bangkok, where the air has been fouled to "unhealthy" levels, according to monitors.
It's time to fight back. Friday is the second day this week that air pollution in the capital has risen to a hazardous level, and exposure can have corrosive health effects.
But cheap masks from the talad won't help, the experts say. Get one rated for the very teeny-tiny particles that are the invisible killers in the air.
Read: Smog Airpocalypse Worsens Over Bangkok
Here's what you need to do: Walk into a pharmacy or pharmaceutical supply store and ask for a mask rated "KN95" or "N95" or above (The number refers to the percentage of fine particles blocked – so the higher, the better). Then you'll be good to go for fine particulates outdoor, which are known as PM2.5 for their size in micrometers.
On Friday afternoon, the Air Quality Index in Bangkok remained at "unhealthy" causing many to suffer from coughing, sore throats and difficulty breathing.
There have been anecdotal reports on social media of people complaining about coughing and suffering from sore and dry throats.
"So much dust I breathed in, and now I'm sick. I've been coughing for a few days and now I know the reason why," @Imyourds tweeted Friday morning.
คือแบบ ฝุ่นเยอะจริงเยอะมากสูดเข้าไปจนป่วยแล้วอ่ะ ไอมาสองสามวันนี่หาสาเหตุเจอละ pic.twitter.com/DyyjGmNLCD

— DARKSKY (@imyourds) February 9, 2018
รู้สึกเจ็บคอ แน่นหน้าอก เป็นเพราะสูดฝุ่น มลพิษเข้าไปรึเปล่านะ

— Bohm (@bohm_nn) February 9, 2018
"I have a sore throat and chest pain. Is it because I breathed in dusts and bad air?" wrote @Bohm_nn on Twitter.
According to Greenpeace Thailand, such pollution in 2015 killed 37,500 people in the country.
But the impact of the current pollution is yet unclear. A representative at Paolo Memorial Hospital Phaholyothin said they have not seen an uptick in admissions for respiratory-related symptoms.
Masks, meanwhile, are in high demand. Several pharmacies have reported selling out and online stories say they've had to import more from abroad.
Those at highest risk are people with respiratory or heart diseases, since the fine particles can travel into the innermost systems of the body, said Suwannachai Wattanayingcharoenchai, director of the Department of Disease Control.
But Jariya Senpong, a campaigner of Greenpeace Southeast Asia, said everyone's health is at risk.
"What is most scary is an accumulation of pollutants," Jariya said, adding that acute exposure to the pollution in the long term can contribute to vascular and heart diseases.
N95 mask models were selling at shops for 30 baht to 60 baht as of Friday. Respirators that block ozone, nitrogen oxide or carbon monoxide are sold for about 140 baht.
Greenpeace, which has campaigned for Thai air quality authorities to take greater action, says the Pollution Control Department's numbers don't tell the full story of what's in the air because they don't measure super fine particles.
"We're talking particles that we cannot see and we haven't seen the problem for a long time," Jariya said. "This is the failure of the governmental organizations, but it's going to be the failure of people if they don't step up to get quality air back."
Related stories:
Smog Airpocalypse Worsens Over Bangkok
Bangkok's Air More Toxic Than You Think: Greenpeace