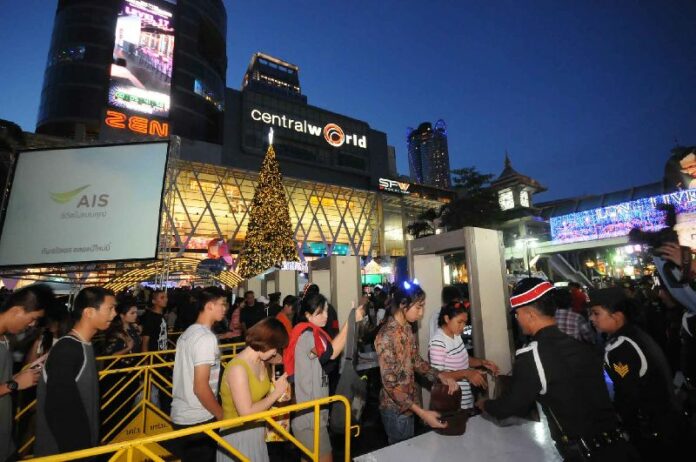 (13 December) Concerned by massive loss of tourism revenue, the Tourism Authority of Thailand (TAT) is hoping to boost the tourism economy with the last big project of the year: the New Year celebration.
Prolonged political crisis has driven away many potential tourists from Thailand, causing a stagnation in the country′s tourism industry, just as it enters the annual ?High Season?.
But TAT Event Director, Mr. Noppadon Phakphot, told Prachachat he hoped the situation will turn out for the better with New Year countdown festivals organised by the TAT in 8 popular tourist attractions all over the country.
The scheduled sites are said to be Bangkok, Chiang Mai, Chiang Rai, Hat Yai, Phuket, Khon Kaen, and Nakhon Phanom.
"The events should invigorate the spending mood of tourists, both Thai and foreign, resulting in a massive cash flow," said Mr. Noppadon, "Many tourists still enjoy visiting Thailand, particularly Pattaya, Chiang Mai and Phuket."
Mr. Adisak Thepasna, Nakhon Phanom Governor, added that the event in the northeastern province is expected to welcome no less than 100,000 visitors from Thailand and the neighbouring Laos, and they are expected to spend up to 30 – 40 million baht during the event.
Local hotels would also benefit from the festival, as they could increase the price 3 to 4 times higher than the normal season, Mr. Adisak said.
Mr. Sarawut Saeteaw, President of Chiang Mai Tourism Business Association, said that 70% of the tourists visiting Chiang Mai during New Year's are Thai, sparing the province′s tourism from revenue loss caused by foreigner′s concern over Thailand′s political crisis.
Reportedly, hotels in Chiang Mai are now almost fully booked. It is expected that the tourists should generate no less than 200 million baht spending in Chiang Mai each day.
Mr. Suraphon Svetasreni, TAT Governor, said that despite the expected numbers of tourists visiting Thailand is lowered down to 25.75 million – 420,000 tourists lower than the previous statistics – cash flow generated during the festive season should remain as high as 1.158 trillion baht.
The TAT Governor blamed the current political situation for discouraging foreign tourists from visiting Thailand, and possibly causing some of them to visit other Thailand′s neighbouring countries instead.
In order to retain Thailand's attractiveness, TAT plans to promote domestic tourism among Thai locals, such as new destination and seasonal tourism, said Mr. Suraphon.
TAT 2014 countdown event schedules are provided as below:
Bangkok: Central World and Ratchaprasong Intersection
31 December 2013 – 1 January 2014
Chiang Mai: Thapae Road, Thapae Gate
25 – 31 December 2013
Chiang Rai: Mae Sai district
30 December 2013 – 1 January 2014
Chonburi: Pattaya Bali Hai Pier
25 – 31 December 2013
Songkhla: Nipat Utit Road, Hat Yai
30 – 31 December 2013
Phuket: Colourful Phuket, Mueang district,
29 – 31 December 2013
Phuket Electronic Music and Dance Festival, Karon Beach 30 – 31 December 2013
Khonkaen: Happy Family Party 2014, Sri Chan Road, Mueang district
25 – 31 December 2013
Nakhon Phanom: Countdown 2014, Phanom Naka Park 29 December 2013 – 1 January 2014.
For comments, or corrections to this article please contact: [email protected]
You can also find Khaosod English on Twitter and Facebook
http://twitter.com/KhaosodEnglish
http://www.facebook.com/KhaosodEnglish