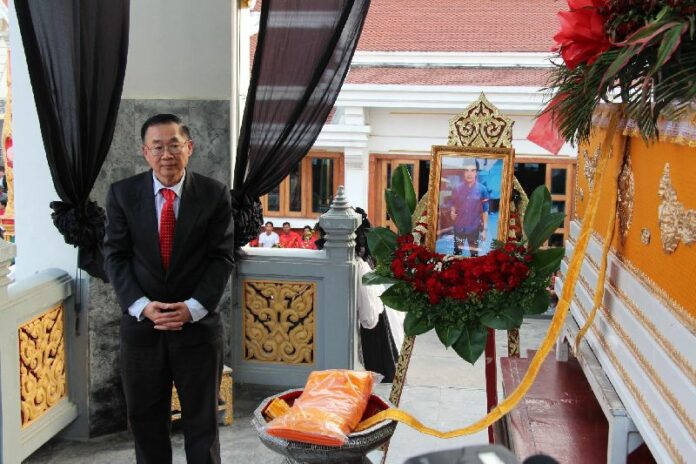 (13 December) The body of the Redshirt protester killed in the clashes with anti-government protesters in Bangkok′s Ramkhamhaeng district has been cremated yesterday.
Mr. Wisanu Paophu, 26, was shot dead by unknown individuals in the heat of the violence in early hours of 1 December, which also killed two other Redshirts and one anti-government protester.
The violence erupted when anti-government protesters clashed with members of the Redshirts near Rajamangala Stadium, where the Redshirts were holding massive rally.
Leaders of the United Front of Democracy Against Dictatorship (UDD), Ms. Thida Thavornseth and Mr. Weng Tojirakarn, attended Mr. Wisanu′s cremation ceremony, which was held at Laan Boon Temple in Laad Krabrang district.
Hundreds of Redshirts supporters were also present at the temple. The song ?Warriors of Dust?, composed by a UDD activist, was played on loudspeakers to honour Mr. Wisanu′s "martyrdom" for the cause of democracy.
Mr. Wisanu′s father, Mr. Wimol Paophu, said he is still saddened by the tragedy. "I can?t believe he left us so soon like this," he said, adding that Mr. Wisanu has been an important breadwinner to the family.
Ms. Surat Paophu, the victim′s mother, also expressed her hope that the police would apprehend those responsible for Mr. Wisanu′s death and prosecute them according to the laws in due time.
"So that my son′s soul can be at peace," she said.
For comments, or corrections to this article please contact: [email protected]
You can also find Khaosod English on Twitter and Facebook
http://twitter.com/KhaosodEnglish
http://www.facebook.com/KhaosodEnglish