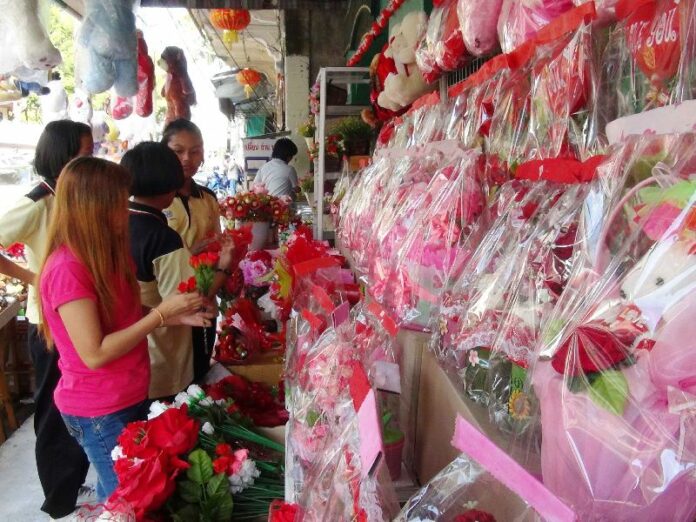 (12 February) University of Thai Chamber of Commerce predicts the lowest spending on Valentine's Day in 8 years, due to ongoing political conflict and a hike in commodity price.
Mr. Thanawan Phonwichai, the Director of Business and Economics Forecasting Centre of the UTCC, said the outlook was based on a survey conducted on 1,200 samples between 3 – 7 February 2014.
The poll revealed that the average spending of 996 baht on Valentine gifts for loved ones, plus an average of 1,813 baht for other expenses in the period around Valentine Day.
39.5% of the samples said that they would use their salary for gifts, while 30.2% said they are taking the money from their annual bonuses, and 29.6% said they are relying on their savings.
It is predicted that the cash flows on the romantic day would hit 3,361 million baht. However, the number is considered as a new low by the researchers – perhaps the lowest in 8 years.
Researchers blamed the slowdown on the ongoing protests led by the People′s Committee for Absolute Democracy With the King As Head of State (PCAD), which have occupied many roads in Bangkok.
Potential consumers are also discouraged by the increase in goods prices, a phenomenon reflected in February 2014 spending statistic.
The UTCC predicts that the economic growth for Thailand should remain at only 3-4% this year if the political confrontation extends into a longer period. "But if the political situation is resolved at some point in the near future, we may be able to see up to 5% growth by the end of the year," said Mr. Thanawan.
Meanwhile, UTCC Rector, Ms. Saowanee Thairungroj, expressed her worries that the political deadlock may severely stagnate the country's economy, as well as creating the uncertainty for exports industry.
She also warned that they country might face future unemployment among new graduates if the crisis is prolonged.
Additionally, the UTCC survey named PCAD leader Suthep Thaugsuban as the most popular politician for this year′s Valentine season, as 10.1% of the samples stated they wished to give him red roses on Valentine Day.
Ms. Yingluck Shinawatra followed at 9.1%, while the government coalition leader Banhan Silpa-Acha comes third at 6%. Mr. Abhisit Vejjajiva, the former Prime Minister, humbly received 5.8% popularity by poll samples.
Pop heartthrob James Jirayu and country-dance star Baitoey R-Siam score the most popular Actor and Singer in the survey, earning 3.4% and 5.9% popularity, respectively.
For comments, or corrections to this article please contact: [email protected]
You can also find Khaosod English on Twitter and Facebook
http://twitter.com/KhaosodEnglish
http://www.facebook.com/KhaosodEnglish