BANGKOK — This past weekend's Techsauce Summit provided insight into the ever-expanding Thai startup ecosystem where financial technology is red hot, venture capital infrastructure is booming – and above all – mobile is still king.
Though not the biggest or most well-attended startup event to grace the City of Angels this year,  of course there were the usual Big Corp suspects at the show, such as DTAC, True Corp. and Siam Commercial Bank. Samsung was even there touting their VR tech, though sadly there didn't seem to be any budding VR content companies to populate those promised worlds.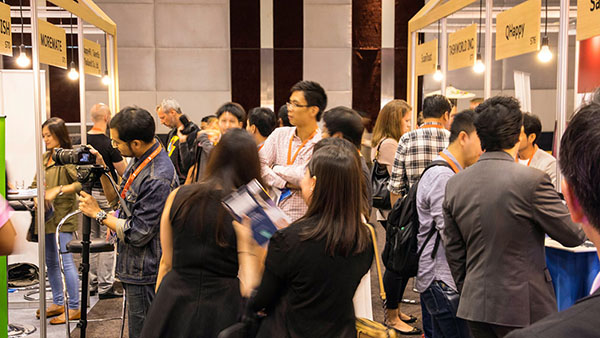 Rob Zepeda, CEO of Playbasis, said the Thai startup scene has become more accessible since he launched the Bangkok-based gamification company in 2011.
"When I started Playbasis, there were a lot more challenges," Zepeda said. "Today, as entrepreneurs, we get more media exposure, access to more capital, and it's become much easier to attract young talent to work for a startup and have the chance to make a real difference."
It was the mix of startups filling out the booths and representing a wide range of sectors which was most intriguing. In full disclosure, I was there working the floor with my company DRVR, a Bangkok-based fleet analytics company.
Helping keep the pipeline flowing with new players has been better access to the money to get them started.
"From the Techsauce ecosystem report, it's clear there is tremendous growth across the board," said Stylhunt CEO Surawat "Sam" Promyotin, who's also executive director of the Bangkok Venture Club. "The number of deals, the number of VCs active in Thailand, and funding raised by VCs themselves. From more direct observation, there is clearly much greater VC presence in Thailand, and the growth is coming from both inside and outside of the country."
Inside the Bangkok Convention Centre, the hottest sector by far was financial technology (which has a much cooler name: fintech). Fintech is so hot organizers had a whole stage dedicated to talks and the conversation also seemed to dominate much of the investor talks as well.
Fintech covers a broad range of areas, but basically anything that might involve finance, payment or banking. If it is tech and deals with money – from peer-to-peer lending to Bitcoin – then it likely falls under the Fintech umbrella.
The startup floor had a fair amount of fintech firms such as Coin Back, Money Channel and Stock Radars.
One of my favorites was Piggipo, and not just for their awesome name. They are hyperfocused on the Thai market to help manage credit/debit among less financially sophisticated consumers. I see products and services like this most likely to open the doors for consumer fintech in Thailand.
Future in Hand
Yossi Hasson, managing director of Techstars Africa, is interviewed by a moderator at Techsauce Summit at the Bangkok Convention Centre.

Though Fintech is hot and growing, one trend has stayed true over time in Thailand: It is very much a mobile first market. Because the vast majority of online use takes place on mobile phones, that means companies gravitate their products to be app-based.
This makes a lot of sense as adoption of personal computers has been low, primarily driven by financial factors. However, mobile adoption is through the roof with over 98 million mobile subscriptions nationwide. That's not bad for a country with a population of only 67 million.
Given the numbers and economics, it's very easy to see why Thailand has emerged as a mobile- first market, and why mobile plays such a big factor in the startup ecosystem. It also hints at why the major mobile providers each run their own startup incubators, but that's a discussion for another time.
Two market segments that I think will emerge strong in Thailand as a result of their mobile-centricity are IoT (the "Internet of Things") and augmented reality (or AR, for my geek friends). If IoT is the connectedness of all our stuff, I've argued that mobile devices are really the gateways to getting there, given that they are always with us and have the ability to connect with other devices through a smorgasbord of connectivity technologies.
A number of IoT segments are already mobile-oriented, such as wearable tech as most devices need to communicate back to the phone via Bluetooth, and we have seen a number of other segments move to a more mobile-centric consumer model, such as the smart home. In the smart home, most connected devices are either managed through a mobile device. Everything from thermostats to door locks to crock pots to egg trays leverage the mobile phone permanently attached to your hand.
As to making the case for augmented reality, look no further than the global obsession that Pokemon Go has quickly become. A couple years after many wrote off AR after the crash and burn of Google Glass, the Pokemon craze has reignited the augmented reality space, all of which of course is centered around the mobile device.
Though Pokémon Go has not officially launched in Thailand yet, expect the mobile AR game to catch on quickly and likely inspire a number of AR based startups to quickly jump on the trend and begin cranking out AR based mobile apps.
Looking Forward
Fintech may be what's hot right now, and that may continue to drive things the next year or so. But really anything spins a unique product or service into a mobile app can take advantage of the most prevalent trend in the Thai startup ecosystem – mobility.
And as with all things mobile, I predict big data will enjoy a resurgence as one of the hottest segments in the startup space, as anything mobile related creates a ton of data must be stored and can be studied for amazing insights.
And where there's data, there must be security.
TOP: From left, Playbasis CEO Rob Zepeda, Korawad Chearavanont of Eko and SaaS Business Asia's Florian Cornu on stage at the Techsauce Summit.