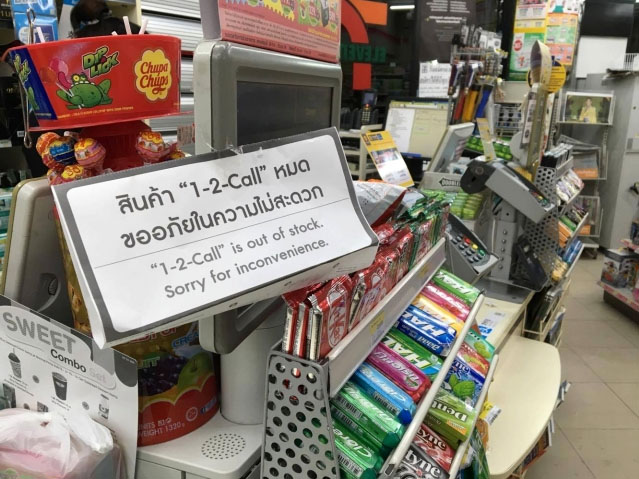 BANGKOK — There were few signs of reconciliation Thursday, one month after the messy public breakup between 7-Eleven and AIS, which left millions of customers cut off from services at the ubiquitous convenience store chain.
A sign saying that 1-2-Call cards were out of stock was hung on cash registers at 7-Eleven branches nationwide. Prachachat reported Saturday that the cause of the schism was 7-Eleven's attempt to increase its top-up commission from 5 percent to 7 percent, the same rate paid by telecom giants DTAC and TrueMove. True is a subsidiary of Charoen Pokphand, the conglomerate which owns the convenience store chain in Thailand.
In other words, when customers add 100 baht onto their phones at 7-Eleven, the convenience store has kept 5 baht. Now, they want 7 baht.
Read: 7-Eleven Dumps AIS Services
AIS pushed back. It said it would not accept increase because as the telecom operator with the largest user base – 33.5 million people use 1-2-Call – they bring more money into 7-Eleven than Dtac and True combined. Still, AIS signaled it was open to renegotiating the deal.
"As far as we know, Seven hasn't placed more orders from us," said Thitipong Kiewpaisal, AIS vice president of marketing. "For our part, however, we are still wide open to negotiations."
An executive at CP All declined to comment.
"At this moment it's not appropriate to talk or give interviews about business negotiations, since we're in a period of mourning," said Bunyut Kumnunwong, an executive vice president at CP All, which operates more than 9,000 7-Elevens nationwide.