Growing a digital economy requires a significant development in several areas, one of them is the startup ecosystem to help develop new companies and make Thailand – or more likely Bangkok – an attractive place for startups to come and do business.
When I first arrived to the country, Hubba was the first co-working space recommended to me. The original location is a house in Ekkamai and has a bit too much of a hipster feel for my liking, but it's a nice departure from the more corporate, cubicle feel of traditional co-working spaces.
Fast-forward four years and Hubba is celebrating their five-year anniversary. Since then, they have opened up two others locations, cofounded the Techsauce Global Summit and become a significant player in the local startup ecosystem.
Their celebratory event was held at their Hubba-to location in On Nut. There I talked to brothers and co-founders Amarit and Charle Charoenphan to discuss some of the challenges Thailand faces in the startup realm, and the role that Hubba looks to play in that light.
Over the course of about an hour before the event, they both elaborated on their deliberate focus for Hubba to not just be a co-working space, but a community that develops and grows startups.
One of the more interesting things Charle talked about was how Hubba had been started shortly before the 2014 coup which threw a real wrench into the business plan. Startups were no longer coming to Thailand, funding had dried up and all major players were looking for new opportunities in more stable countries
Four years on from that hiccup, Amarit indicated on more than one point that the current government – the same group of fellows that caused that coup – are driving policies that if enacted and successful will go a long way in strengthening the startup ecosystem.
I found that stark contrast and turnaround a rather interesting story, one the brothers seem to have embraced as part of doing business in Thailand.
Toward this goal, Hubba used their event to make two announcements that will have significant impact on the Bangkok startup ecosystem. First they announced the future opening of what will be Thailand's – if not Asia's – largest co-working space. A typical Hubba space is between 3,000sqm to 5,000sqm, while this new space will be up to 10 times larger and ideally house 50 startups.
I asked Charle and Amarit about the selection criteria for startups that would be brought into the  space and if they are focusing on any specific sectors. The selection process isn't yet decided and there will be no specific industry focus, but they stressed that it will be based on the founders more than the startup itself.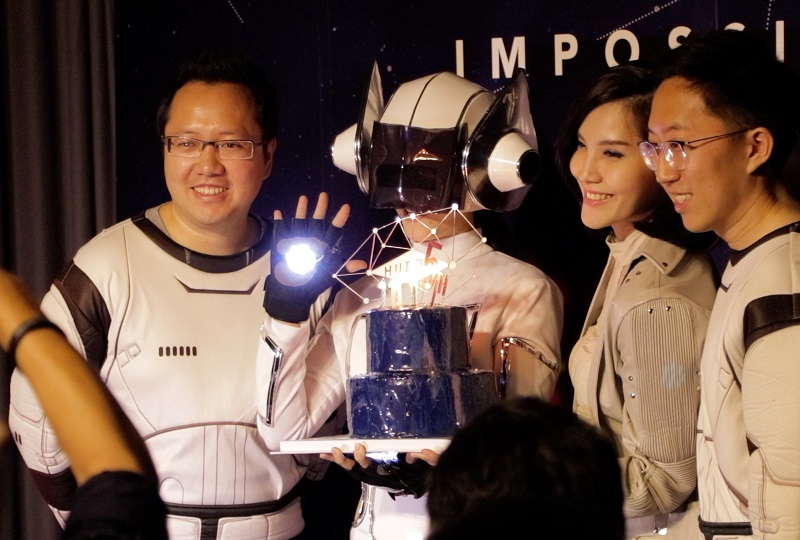 Amarit and Charle both stopped short of using the word incubator, though it certainly sounds as if it could be one. Instead they were both very deliberate in their tone and phrasing, preferring to call it a startup campus.
They also announced that they are working toward launching their own fund which would focus on very early-stage startups which are generally unattractive to venture capitalists in the region. Charle and Amarit both felt that their experience having witnessed their own development over the past five years gives them a unique perspective to mitigate some of the risk. It allows them to identify startups or founders that have a higher likelihood of success, especially when leveraged by all the other startup resources they have developed over the years.
If they have developed some secret sauce that allows them to invest at such an early stage with more likelihood of success, then it could be a significant game changer for startups in Thailand.
The main event was kicked off with a short speech by Amarit, donning his storm trooper outfit and talking about where Hubba has been over the past five years as well as the direction it plans to go in. He also unveiled their new Hubba connect platform, which is a sort of social network for startups and will likely be a key focal point in Hubba's goals to grow beyond simply a co-working space.
Amarit's intro was followed up with a panel discussion about the Thai startup ecosystem. made up of Amarit, Juthasree Kuvinichkul, the CEO of Metta Group, Pita Limjaroenrat, Country Head for Grab, Joshua Pas, the MD of Addventures by Siam Cement and moderated by Charle.
There were some significant players up on the panel, but the topics were kept light and focused on the ecosystem, which was in keeping with Hubbas focus. While the panel itself was light hearted, it did not shy away from some of the major challenges to the Thai ecosystem, such as government regulations, or lacking the share market power of the Indonesian ecosystem or the venture capital depth of Singapore.
The evening was capped off with an intergalactic themed party on the first floor of Hubba-to, which I am sure went on for many hours after I left.
At the end of the day there is no denying that Hubba has carved out itself a significant role in the Thai startup ecosystem, and it's clear it has much larger aspirations – not just for themselves and Hubba – but for the ecosystem in general, and given their trajectory over the past five years, I for one am interested to see what the next five will bring.