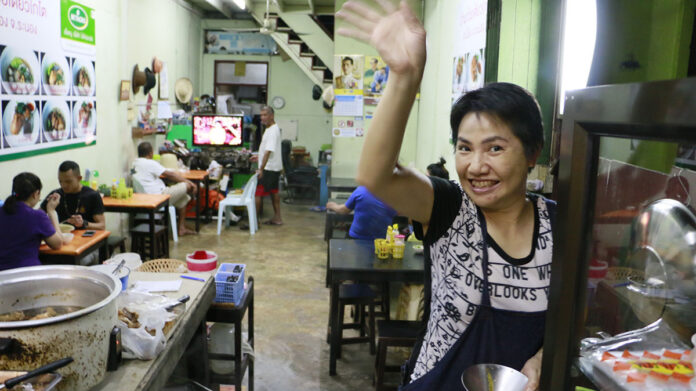 RANONG — J'Tae scooped steaming guay tiew noodles into bowls while turning to watch, enraptured, at the news.
When the anchor announced that 12 boys and their football coach were found alive after nine days in a deep Chiang Rai cave, she whooped and said the noodles she sells would be free.
"They found 'em? Free food, free food! What'dya want to eat today? Go ahead and think of the menu you wanna eat!" Kanyarat "J'Tae" Wongwattanachai, owner of Koto Guay Tiew shop said late Monday night.
Kanyarat's shop is one of the many eateries that have been giving away free food in celebration of the miraculous survival of 12 boys aged 11 to 16 and their 25-year-old football coach. The team went missing June 23 in Tham Luang Nang Non and were found alive and well late Monday night.
Navy SEALs, international experts and rescue teams have been at work to solve the crisis, which has gained 24-hour media coverage.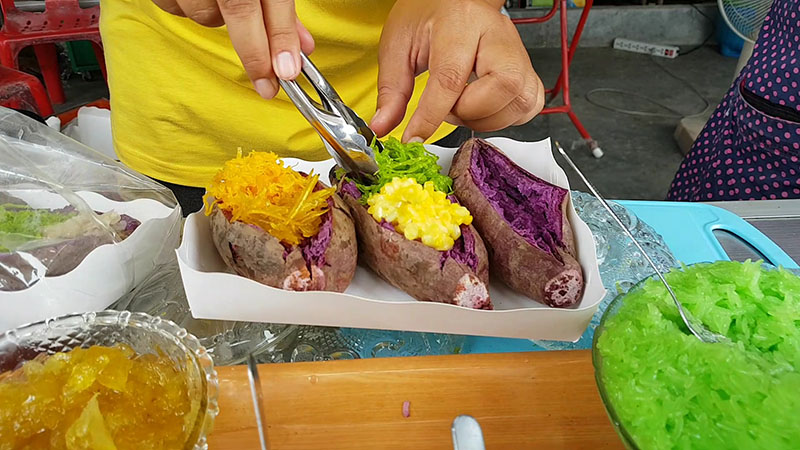 A stuffed potato shop named "The One and Only Exploding Stuffed Potato Shop in Nakhon Pathom" run by Boonjira Kuy-on, 53, will grill hundreds of kilograms of potatoes in celebration through Wednesday.
"I vowed that if they found the 13 people I would roast a hundred kilograms of potatoes. But since I can't go roast them up there, I'd like to roast them here," Boonjira said. "I'll roast 300 kilograms with sides and 10 fillings for the potatoes."
Boonjira said she had vowed this giveaway while consuming the news of the 13.
"While I was grilling potatoes, my hair stood up on end. I thought of those kids. I squinted my eyes. Therefore I vowed with all the sacred spirits to protect them," Boonjira said.
Somjai Homros of Homros Cuisine in Phrae province said everything in her shop was free for the day.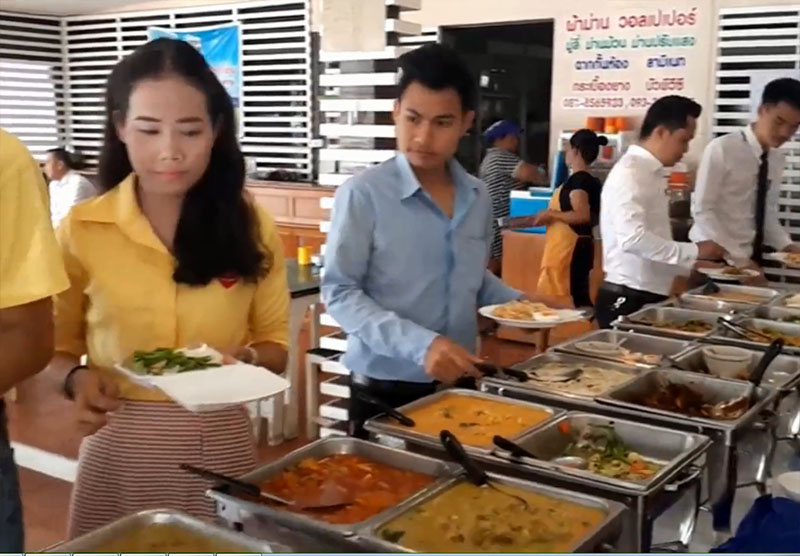 "As soon as I heard the news I was so happy. I want my customers to eat for free until I have no stock left," Somjai said.
Im Mai Un, a buffet of rice and 22 curry sides in Nakhon Pathom, let customers eat for free Tuesday.
"I feel so happy to be part of encouraging the rescue officials. Us Nakhon Pathom locals even sent a water pipe and pump there," owner Pornsiri Nomnamthip said.
At Bee Restaurant also in Ranong City, customers changed the channel from the Brazil Vs. Mexico World Cup match to glue their eyes to the news, with some cheering and wiping their eyes when a news anchor announced that all 13 boys had been found alive.