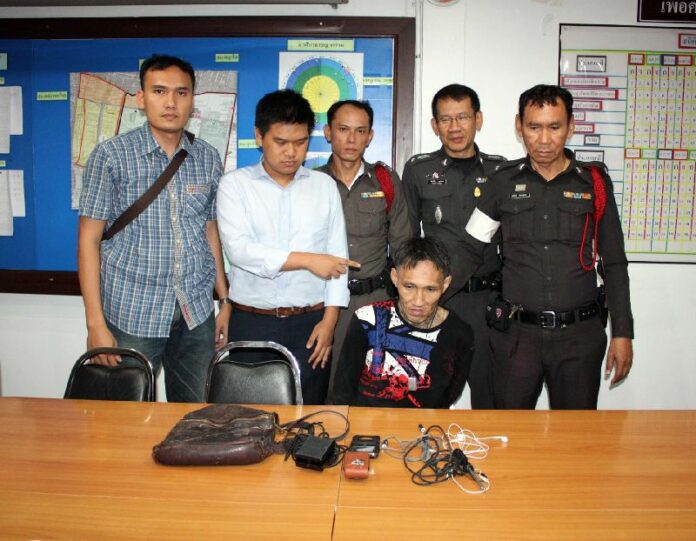 (24 September) Bangkok police have arrested a man alleged to have stolen items from the cars of numerous victims, including a reporter of Khaosod newspaper.
The journalist, Mr. Karnbadee Ngamjitr, said that prior to the incident he had parked his car on Soi Kasemsant 1 in Pathum Wan district on the night of 22 September.
As Mr. Karnbadee and a few of his friends were walking back to his car from the National Stadium BTS Station, he said, his friends noticed a man sitting inside the car.
The man quickly escaped after he saw Mr. Karnbodi's group approaching. Mr. Karnbodi then urged his friends to follow the man, who reportedly ran away and hid inside a building while the reporter alerted the police.
Police later surrounded the area and eventually arrested Mr. Permyos Ratchakhon, 43, a resident of Muang district, Pathum Thani Province. Upon searching Mr. Permyos, police found several items, which Mr. Karnbodi claimed to be his, including a brown leather bag and an iPod Touch.
Mr. Permyos later confessed he had broken into Mr. Karnbadee′s car, and said that he committed car robberies in this manner for only 3 times, and the stolen items were sold at Saphan Phut Night Market to earn money to maintain his drug habit.
He said he had been spending much of the last 15 years in prison, serving his sentence for drug offence 6 or 9 months at a time. Records show his latest jail term was finished earlier this June.
However, Pol.Col. Ruechakorn Jorrajewutthi, senior officer of the Metropolitan Police Bureau, said in a press conference earlier this morning that Mr. Permyos has in fact been responsible for as many as 10 car robberies in the past 3 months alone.
Mr. Pichai Suksavet, 25, is one of the individuals who had filed a complaint to the police in the case. He had previously notified the police that his bass guitar and the instrument's effects had been stolen from his car in Soi Chula 9.
According to Mr. Pichai, police had helped him retrieve the item by tracking the online purchase of his instruments, which the police pointed to Mr. Permyos.
At the press conference, Pol.Col.Ruechakorn added that "robberies have become a social problem, which the police had been tackling for a certain time. However, public collaboration is needed in order to trace for the crime."
The officer urged second-hand shops to be aware of the items' history to avoid the charges of trading stolen items, and advised citizens not to park their cars in any suspicious area or leave any valuable belongings inside the vehicles.