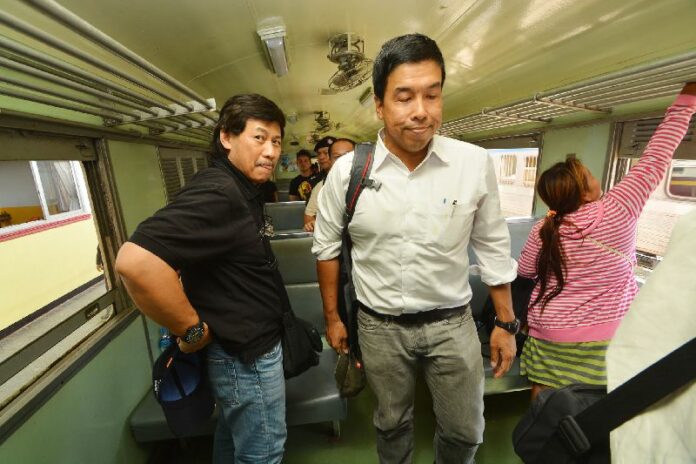 (5 October) Transport Minister, Mr. Chatchart Sittipan, has toured the site of the malfunctioning level crossing near Ekkachai Soi 23 in Bangkok suburb area.
The crossing had been a source of complaints from local residents, as the crossing often malfunctioned due to the lack of proper maintenance and continuously sent out warning of oncoming trains in high-pitched sounds for hours, leading many locals to sarcastically name it "the haunted crossing" out of frustration.
The crossing is run automatically and not usually occupied by any railway officer.
On Friday, a woman from the area posed a complaint message on the famous webboard 'pantip.com' with a video of the defective crossing. The video uploader explained in the clip that the crossing screamed the warning sounds all night long, and only ended when the first train past the area at 05.00 in the morning.
"It has been going on for 5 nights," said the exasperated uploader, adding that she had contacted the rail authority about the matter but the officials never showed up.
Earlier this morning, Mr. Chatchart, who was in Nong Khai province to promote the project to construct high-speed railways, flew from the province to Bangkok and visited the crossing.
In his facebook post, the minister wrote "I just flew back from Nongkhai province, as I need to monitor flood barrier tomorrow (6 October). After I noticed a post on the internet about the annoying level crossing at Ekkhachai Soi 23, I ordered the fixing and came to see it"
"When I arrived, the mechanic team was fixing the crossing" Mr. Chatchart continued, referring to the Wongwienyai – Mahachai rail route, "the route looks really bad."
Transport Minister also called out to Bangkok Governor, Mr. Sukhumbhand Paribatra, "There are 34 trains running on this route. I suppose I need to invite Mr. Governor to investigate the rail."
"Many people might say this is a minor issue, but I believe that if I want the State Railway of Thailand (SRT) to take priority for the issue, I must lead by example" said Mr. Chatchart, repeating the phrase he used during an interview withKhaosod.
Mr.Chatchart said he also met with the person who posted the complaint to the internet.
The Transport Minister has previously travelled to Nong Khai on a third class train with Mr. Prapat Chongsanguan, director of SRT. He wrote about the experience on his Facebook, saying a passenger had told him that train services are gradually improving.
For comments, or corrections to this article please contact: [email protected]
You can also find Khaosod English on Twitter and Facebook
http://twitter.com/KhaosodEnglish
http://www.facebook.com/KhaosodEnglis