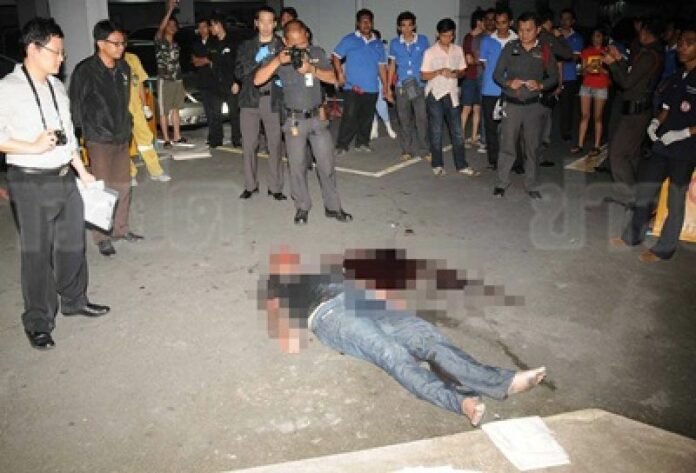 (14 October) A foreign man was found dead at his apartment building in Suan Luang district, Bangkok. The police believe he had committed suicide by jumping off the balcony in his room.
The incident took place in Soi Sukhumvit 77. Mr. Suchart Faesawad, 25, a security guard present at the scene, told the police that he was informed about a man standing at his balcony attempting to commit suicide. However, Mr. Suchart said, once he arrived the man had already jumped off to his death.
Initial investigation reported that the deceased, Mr. Erik Lelli (transcribed from Thai text), 42, was employed as a chef at a restaurant in Sukhumvit area. Initial investigation identified his nationality as Austrian.
Inside his apartment, police found no trace of any intruder, as the room was locked from the inside.
Police said they had contacted the Austrian Embassy regarding Mr. Lelli's death in order to inform his relatives about the incident and to question them further about Mr. Lelli's possible motives behind the suspected suicide.
Although the case is suspected as a suicide, the police stress they did not rule out other possibilities. Post-Mortem investigation is scheduled to be conducted at Chulalongkorn Hospital within a few days.
For comments, or corrections to this article please contact: [email protected]
You can also find Khaosod English on Twitter and Facebook
http://twitter.com/KhaosodEnglish
http://www.facebook.com/KhaosodEnglish