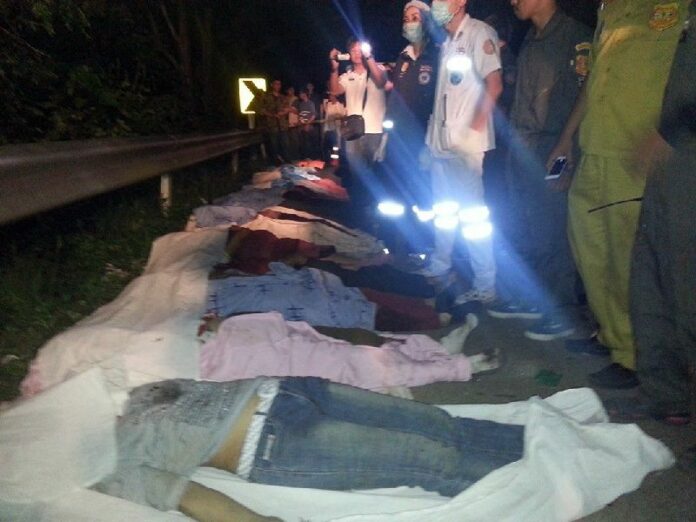 (24 October) A tour bus has plunged off a cliff last night in Wang Nuea district, Lampang province, leaving at least 21 people dead and more than a dozen injured.
Police said the air-conditioned tour bus was operated by Wirapol & Travel Company and travelling from Chiang Mai province toward Phayao province. The bus was reportedly carrying loads of passengers headed for a Buddhist ceremony at a Phayao temple.
Due to the mountainous terrain, the rescue workers had great difficulty reaching the accident site. Once they arrived, they found a number of passengers trapped inside the wreckage of the vehicle, crying for help.
Injured victims were later transported to Wang Nuea Hospital, while rescue team tried to retrieve the deceased victims inside the coach.
So far, it is reported that 21 passengers died at the scene, and 17 people were injured. Police and the rescue team have not yet successfully identified the identities of the casualties.
Pol.Col. Somdech Totsaphon, chief of Wang Nuea Police Station, said that the information found inside the bus revealed the driver to be Mr. Wiwat Nochai, 43, from San Kamphaeng district, Chiang Mai province.
However, police believed that he had been transported to the hospital along with other victims as he was not present at the scene.
Police believe the driver might not be familiar with the route, and attempted to apply a sudden brake when he encountered the cliff, causing the vehicle to slide off into a deep gorge.
The police said they would proceed with further investigation.