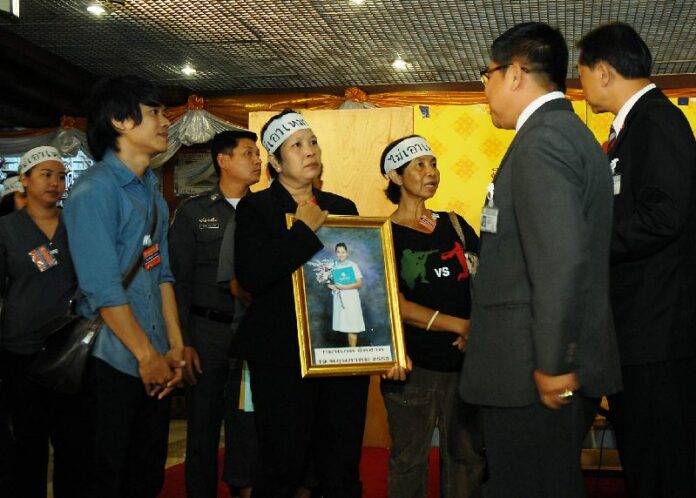 BANGKOK — The relatives of victims killed in the 2010 crackdown on Redshirt protesters marched from Democracy Monument to the Parliament House in Bangkok today to protest the blanket amnesty bill backed by the government.
The activists were protesting a proposed anmnesty bill that would dissolve legal cases against all political actors since 2004, including the authorities responsible for the 2010 crackdown on Redshirt protesters that left more than 90 people dead.
The procession was led by Payao Akhard, the mother of a volunteer medic shot by military bullets on 19 May 2010.
Some of the marchers dressed up as keng, a type of basket commonly seen in Thai fresh markets, in reference to the bill's nickname, mao keng, which means "all in the basket." The nickname is a jab at the bill's all encompassing-nature.
After arriving at the Parliament House, Payao and others submitted a letter of protest to Wicharn Minchainan, a Pheu Thai MP.
The letter called upon Pheu Thai to withdraw its support for the amnesty bill, which the activists said would perpetuate impunity for those behind the 2010 crackdown, namely former Prime Minister Abhisit Vejjajiva and the military.
Payao was accompanied by Pussadee Ngarmkham, who is said to be the last Redshirt to leave the protest site on 19 May 2010. Pussadee also criticised the blanket amnesty bill and Pheu Thai Party for sponsoring it in spite of resistance from the crackdown victims' families and many Redshirts.
"Pheu Thai is hurting the Redshirts," said Pussadee. "How could you sacrifice people′s lives in favour of power?"
More protests against the "amnesty for all" bill are expected this week, including a demonstration in Ratchaprasong Intersection scheduled for this Sunday by the Red Sunday group, a progressive faction of the Redshirts.
The coordinator of the group, Sombat Boon-Ngarmanong, said the rally aims to remind the Redshirts of the need to hold security forces accountable for their atrocities against unarmed protesters in 2010.
Robert Amsterdam, a lawyer who has represented the Redshirt movement, said he "completely and utterly" condemned the blanket amnesty bill.
In an email statement, he added that he will not stop his efforts to bring those responsible for 2010 military crackdown to justice. "The Red Shirts should not lose heart," Amsterdam said, "It took decades in Argentina to bring those responsible for massacres to justice but they finally did it."
However, he refused to comment on whether he had personally tried to convince former Prime Minister Thaksin Shinawatra to withdraw his support for the bill.
For comments, or corrections to this article please contact: [email protected]
You can also find Khaosod English on Twitter and Facebook
http://twitter.com/KhaosodEnglish
http://www.facebook.com/KhaosodEnglish