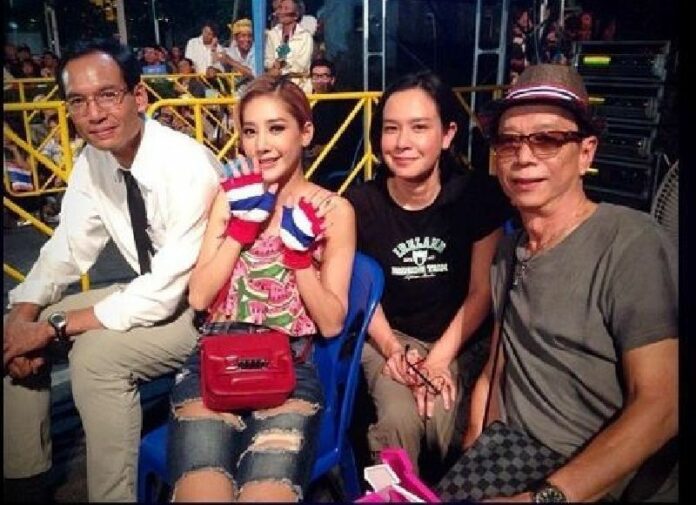 (11 November) Former Prime Minister Thaksin Shinawatra has pressed defamation charges against a leader of the anti-government protests and a famous actress.
UPDATE: Mr. Thaksin said he no longer wished to press charge, according to his lawyer: link.
The lawyer representing Mr. Thaksin, Mr. Winyat Chartmontri, told the police Mr. Thaksin is gravely insulted by Mr. Somboon Thongburan, a leader of the People′s Democratic Force For Overthrow of Thaksinism (Pefot), who accused Mr. Thaksin of sending 400 foreign militants to take shelter in Dharamakaya Temple in northern Bangkok and wait for Mr. Thaksin′s order to attack the anti-government protesters.
Dharmakaya is a Buddhist sect which is seen as harbouring close ties to Mr. Thaksin and his party.
Mr. Winyat told reporters the anti-government protests have often broadcast false statements and claimed to have the support of the monarchy in order to mislead the public and discredit the government.
"I?d like to call on the protesters to use their reasons. Don?t be used by anyone," said Mr. Winyat.
The lawyer also pressed charge on Mr. Thaksin′s behalf against Ms. Pattarathida ?Tang Mo? Patcharaweerapong, a well-known actress who gave speeches on the stage of the anti-government rally in Ratchadamnoen Avenue last week.
Mr. Winyat called Ms. Pattarathida′s speeches "libelous", without naming the problematic parts of her speeches.
For comments, or corrections to this article please contact: [email protected]
You can also find Khaosod English on Twitter and Facebook
http://twitter.com/KhaosodEnglish
http://www.facebook.com/KhaosodEnglish