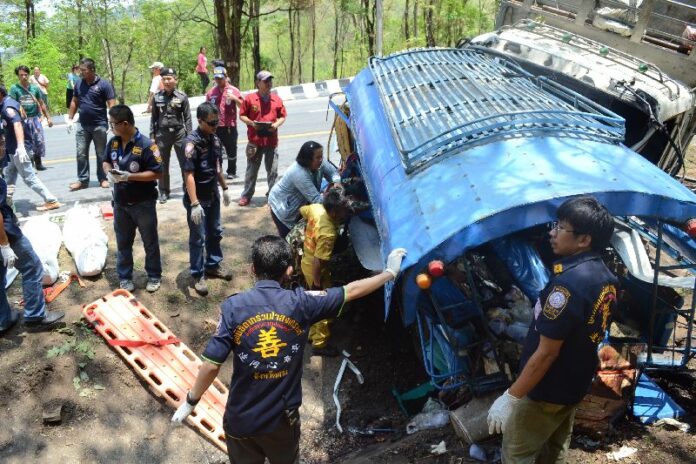 TAK – A hilly slope of the highway in Mueang district of Tak province has claimed yet another traffic accident in which 15 people were killed.
It is the third large-scale road accident that happened on the very same stretch of Tak-Mae Sot Road in the past 5 weeks.
In the latest accident, a 10-wheeler truck has collided into an oncoming converted pick-up truck that was full of passengers at around noon today, police said.
According to the police, the driver of the truck lost control of his vehicle as he descended down the slope of the hill. The truck reportedly crashed into several vehicles, before slammed headlong into the pick-up truck. Nevertheless, the police stress that a thorough investigation is needed to establish a clear cause of the accident.
13 people died at the scene, while two more victims died at hospital, medical workers say, adding that the dead include an official from the Department of Forestry, and the pick-up truck's driver, while the rest was members of the local hill tribes.
The pick-up truck was headed to Mae Lamao district and left the bus station in the city center of Tak province only 40 minutes before the accident, police say.
Suriya Prasatbandit, Govenor of Tak province, said during his inspection at the accident site that he has ordered an investigation into the case, and that he demanded to see the result of the inquiry as soon as possible.
The same downhill slope of Tak-Mae Sot Road is no stranger to accidents. On 24 March, a public bus carrying officials on a field trip sped down into the ravine next to the highway, killing 31 people.
In another incident on 23 April, 16 illegal immigrants were killed when their chartered bus suffered a brake fault and crashed into the side of the road.
For comments, or corrections to this article please contact: [email protected]
You can also find Khaosod English on Twitter and Facebook
http://twitter.com/KhaosodEnglish
http://www.facebook.com/KhaosodEnglish