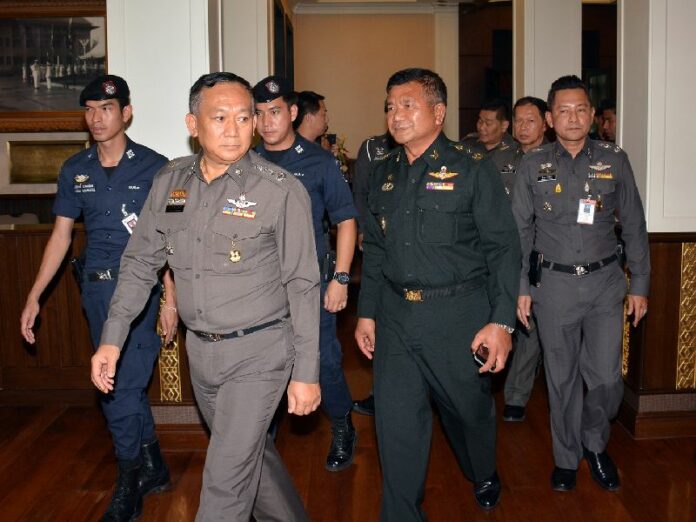 BANGKOK — Thailand's defense minister Prawit Wongsuwan described the army general who surrendered to police today on charges of human trafficking as a hard-working military officer.
Lt.Gen. Manas Kongpaen, a "senior adviser" to the Royal Thai Army, turned himself in this morning after police accused him of aiding trafficking operations in southern Thailand that involved holding Rohingya and Bangladeshi migrants in jungle camps and extorting ransoms from their families. Lt.Gen. Manas has allegedly been involved in the operation since May 2012.

Lt.Gen. Manas Kongpaen arriving at a police station in Hat Yai, Songkhla, 3 June 2015.
When a reporter asked Gen. Prawit, the Defense Minister, whether the armed forces had any knowledge of Lt. Gen. Manas's alleged criminal activity, he replied, "No. He has worked well. As far as I know, he is dedicated in his works, generally speaking. He has done a lot of work for the country."
He added, "This is a personal issue. He is still only an accused."
Police obtained an arrest warrant for Lt.Gen. Manas on 1 June, and charged him with human trafficking, assisting aliens in illegal entry to the Kingdom, illegal detention, and holding individuals for ransom.
He is the first army officer to be named as a suspect in police's ongoing crackdown on human trafficking rings in the south. Fifty-one people have been arrested so far, including local police officers, politicians, and businessmen.
Lt.Gen. Manas told reporters yesterday that he would turn himself in at a police station in Songkhla province – where the abandoned detention camps were found – but instead met with high-ranking police officers at the headquarters of the Thai police in Bangkok today.
He was later transferred to a police station in Hat Yai, Songkhla, where he will be held for up to 48-hours of interrogation.
Thai police chief Pol.Gen. Somyot Pumpanmuang said Lt.Gen. Manas denied the charges this morning, but did not provide any further testimony during their meeting.
Speaking to reporters on the phone yesterday, Lt.Gen. Manas asked the public to withold their judgment until his case is formally processed in court.
"I would like to ask society not to judge me as a guilty person," he said. "I want them to look at information from both sides, and let the court decide. I would like to ask for fairness. I am willing to cooperate with the officials in any way. No matter what the verdict is, I will accept it. I don't have problem with it. I am a Thai person, I accept all rules in this society."
A total of ​84 arrest warrants have been issued since the crackdown on human trafficking started on 1 May, said Pol.Gen. Aek Angsananont, deputy commander of Thai police. Regarding Lt.Gen. Manas's arrest, he said, "Police will give dignity to the suspect, who is a senior army officer. But we will also treat him with the same standard as other suspects."