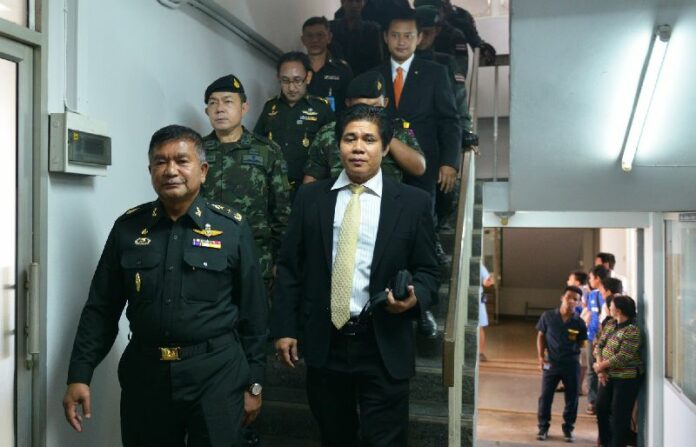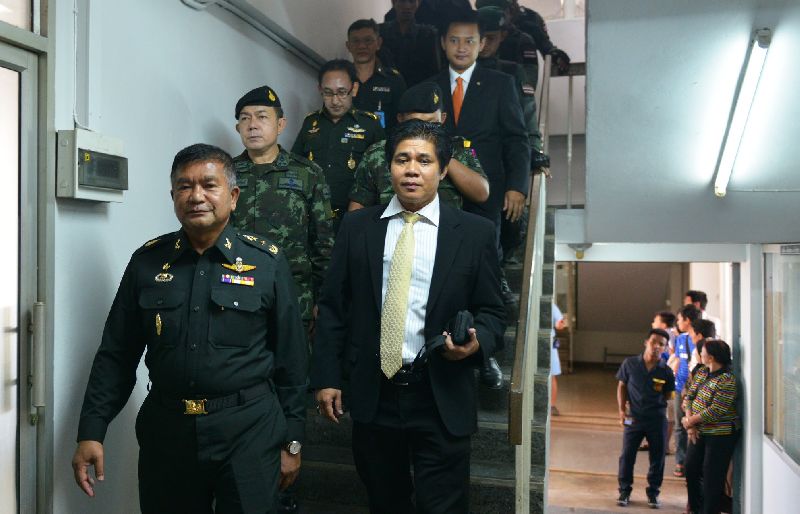 SONGKHLA — A three-star army general accused of running a human trafficking ring in southern Thailand has been denied bail.
Lt.Gen. Manas Kongpaen, a "senior adviser" to the Royal Thai Army and a former head of a task force on curbing illegal migration, has been charged with human trafficking, illegal detention, ransoming, concealment of dead bodies, physical assault, and conspiring in a transnational crime.
After a full night of interrogation on 3 June, police escorted Lt.Gen. Manas to Na Thawee Provincial Court and requested the general be held in remand prison while he awaits trial.
Lt.Gen. Manas posted a bail request with bond of 2.6 million baht, but the civilian court rejected it on the grounds that he is an "important suspect" who may interfere with witnesses and evidence. Lt.Gen. Manas was then taken to Na Thawee prison.
The general's lawyer said he would try to post bail again today.
Lt.Gen. Manas is the first military officer and most high-profile suspect to be implicated in human trafficking operations in Thailand. Fifty-two other suspects have also been arrested over the past month, including police officers, local administrators, and bureaucrats.
The crackdown was launched after police found an abandoned jungle prison in Songkhla, which they believe was used to detain Rohingya and Bangladeshi migrants while traffickers demanded ransom from their relatives. The migrants who survived abuse in the grim camps and managed to pay off the traffickers were then smuggled overland into Malaysia. Police say Lt.Gen. Manas has been involved in the criminal operation since May 2012.
Meanwhile, Minister of Defense Gen. Prawit Wongsuwan clarified yesterday that he did not intend to endorse Lt.Gen. Manas when he described the general as a dedicated man who "worked a lot for the country."
"Some media agencies said in their headlines that I gave support to Lt.Gen. Manas. I'm not involved in it," Gen. Prawit said yesterday. "I don't know him personally. I only have information about how he had worked, so I told the media about it, but you mixed it up in your articles, and made what I said unclear."
He added, "I didn't say anything that showed my support to Lt.Gen. Manas. The criminal case is now in the hands of the police."
Gen. Prawit also pledged that any state officials involved in human trafficking operations will face strict punishment in accordance with the laws, and not receive any special privileges.
The latest suspect surrendered himself to police yesterday. He was identified as Banchong Pongphol, a former mayor of Padang Besar district, where several of the abandoned detention camps were discovered last month.