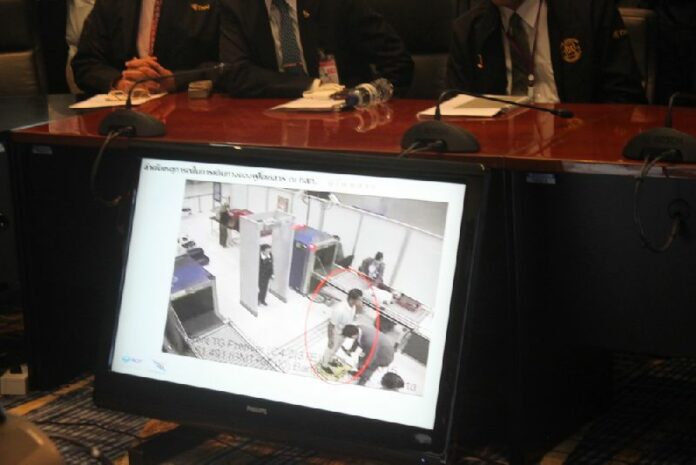 BANGKOK — Japanese officials have not allowed the relatives of a former Bangkok police commander to visit him in prison after he was arrested at a Tokyo airport with a firearm, a Thai police spokesperson said.
The former chief of Bangkok's police force, Pol.Lt.Gen. Kamronwit Thoopkrachang, was arrested with the loaded revolver at Tokyo's Narita Airport on 22 June while he was preparing to board a Thai Airways flight to Bangkok.
He is currently being held in a Japanese prison while prosecutors decide whether to seek his indictment.
A spokesperson for the Royal Thai Police said Kamronwit's lawyer has asked Japanese authorities to allow his wife and son to visit him.
"These days, only lawyers and diplomatic officials are allowed to visit him," Pol.Lt.Gen. Prawuth Thawornsiri told reporters today.
He also said that a Japanese public prosecutor will decide tomorrow whether to formally bring Kamronwit's case to court, or to detain him further. Under Japanese laws, suspects can be detained for up to 20 days in remand prison, Pol.Lt.Gen. Prawuth explained.
"How the prosecutors will decide in this case, I cannot say," Pol.Lt.Gen. Prawuth said.
The spokesperson said police are not certain what type of gun Kamronwit was carrying, but believes it was either a small .22 mini-revolver or a .38 revolver. Thai police previously told reporters Kamronwit was carrying the mini-revolver.
"There may be some inaccuracy," Pol.Lt.Gen. Prawuth said. He also told reporters police have not yet determined how the gun ended up in Kamronwit's luggage.
"Pol.Lt.Gen. Kamronwit has many guns in his possession, and he has licenses to carry firearms in Thailand," Pol.Lt.Gen. Prawuth said. "However, we cannot confirm whether he had the license for the confiscate gun."