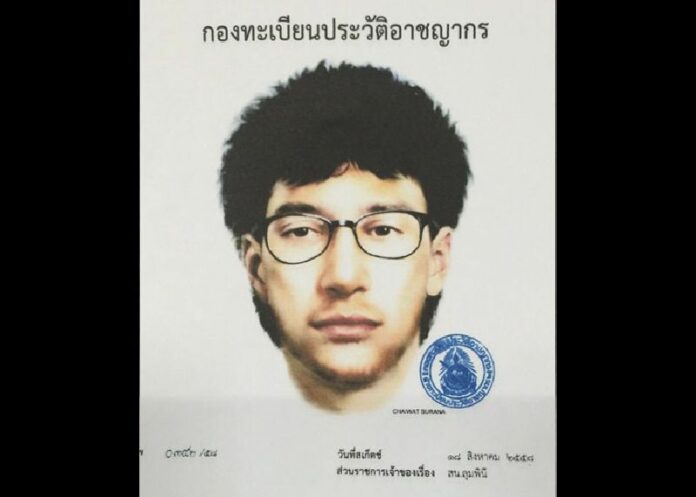 BANGKOK — Police have denied a news report earlier today claiming two witnesses who said they interacted with the suspected Bangkok bomber had positively identified him in a passport photo shown to them by authorities.
While one suspect remains the singular focus of intense scrutiny and speculation behind Monday's deadly bombing at the Erawan Shrine, police refuted a report from correspondent Richard Lloyd Parry claiming one witness was "100 percent sure" the suspect was the same man whose passport photo was shown to him.
"I don't know who the source in this story is, but let me insist that police are working based on the evidence that we have," outgoing national police chief Somyot Pumpanmuang told reporters this afternoon when asked about the report.
Somyot denied the man named in the news report was a person of interest. Asked specifically if investigators have linked any name to the suspected bomber yet, Somyot said "not yet."
"But even if I have the name, I wouldn't necessarily tell the media, because it won't do anyone any good," he said.
Earlier today the account was posted by correspondent Richard Lloyd Parry on his Facebook, who said the story was only published in electronic editions of the paper this morning and not available online. Parry is a correspondent for London-based The Times.
"When the police showed me the pictures, I recognised him immediately," the report quotes a Nikhom Tantula, who is said to be one of two motorcycle taxis who stepped forward to say they had given the suspect a ride. "I said: 'I'm 100 percent sure'. They asked me some questions, but not many. It's strange."
Nikhom, in Parry's account, said he gave ride to the suspect eight days in a row in February, always at 5:30am from a stand on Sathorn Road and was confident it was the same man show to him in a passport photo shown to him by an immigration official.
Nikhom recounted taking the man, Parry wrote, to a hotel close to Asoke Hospital in central Bangkok.
While there is no listing for an Asoke Hospital, there is an Asoke Skin Hospital near the MRT Petchaburi station on Asok-Din Daeng Road.
The name identified in Parry's report is "Mohamad Museyin." Perry's account appears to rely on spelling seen by the two men on the passport page shown to them. Searching public records finds few references to a Museyin family name, and it could be a possible misspelling of Huseyin, a common name in Turkey.
In Turkey, Huseyin is a common rendering of a common name spelled elsewhere as Hussein.
That possibility is likely to fan the flames of suspicion the attacker might have been acting over anger about Thailand's forcible return of more than 100 Uighur refugees to China in July. The day after they were deported, an angry mob ransacked the Thai Consulate in Istanbul, Turkey.
Since Monday's deadly attack, which killed at least 20 and wounded more than 150, public signals from investigators have centered on one man seen in CCTV footage leaving a backpack in the shrine minutes before the blast.
Debate has swirled about his identity, with no conclusive evidence provided as to his nationality or ethnic background, despite a wash of rumors and claims.
Related stories:
Leaked Police Report Tracks Lead Suspect Before, After Bombing
Bangkok Bombing: Police Turn to Interpol as Investigation Stalls
1M Baht Bounty for Bangkok Bomb Suspect
Police Widen Hunt for Bombing 'Network'
Bangkok Shrine Bombing: Those Who Died
Day in Photos: Expressions of Grief, Unity After Terror Attacks
Briton Dies in Bangkok Shrine Bombing
Despite Lack of Evidence, Thai Media Points Blame at Uighurs
Tourists Narrowly Escape Second Bangkok Bombing in 24 Hours
Bangkok Shrine Bombing: Police Hunt Backpack Man
Tourists Among 19 Killed by Bomb at Bangkok's Erawan Shrine
To reach us about this article or another matter, please contact us by e-mail at: [email protected].