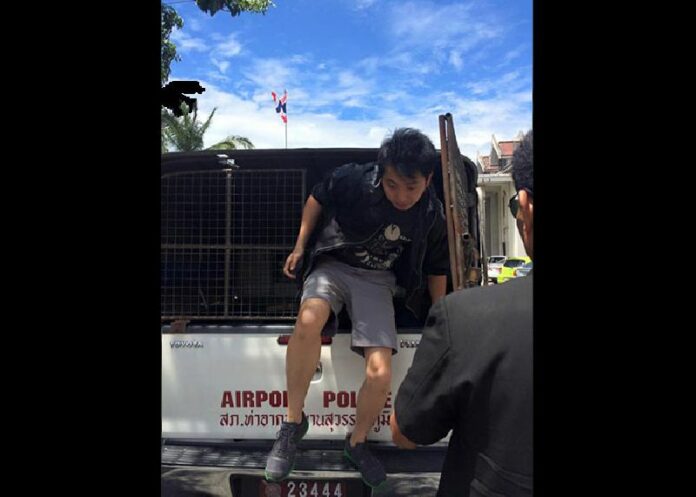 BANGKOK — A reporter from Hong Kong charged with possessing body armor was released on bail today and has been forbidden from leaving the kingdom.
Anthony Kwan, a reporter with Hong Kong startup Initium Media, was arrested yesterday at Suvarnabhumi Airport when an X-ray scan discovered body armor and a helmet in his luggage, according to Police Col. Santi Wannasak of the Samut Prakan Police Station.
"He has been sent to stand trial at Samut Prakarn Provincial Court," not the military court, as earlier reports suggested, Santi said. "He has been granted bail. His bail condition is that he cannot leave the country. The court set this condition, not the police."
Under the Military Equipment Control Act of 1987, possessing protective body armor is a criminal offense punishable by up to five years in jail.
Kwan, who was in Bangkok covering the bombing of the Erawan Shrine for his media firm, said he was not aware of the law when his company sent him the armor to wear for his protection, Santi added.
According to his personal website, Kwan lived in the U.S. state of Minnesota and began a career in photojournalism in 2011. Last year he was in Hong Kong covering massive street protests there.
In a statement the morning, the Foreign Correspondents Club of Thailand said it was "dismayed" by the news.
"Body armour and helmets used by journalists are not offensive weapons and should not be treated as such. … the use of body armour and helmets is routine by journalists around the world, and is clearly to enable them to do their jobs in dangerous situations."
Since the 17 Aug. bomb attack, which killed at least 20 people including two from Hong Kong, foreign correspondents have descended en masse on Bangkok to cover the story, likely unaware of the ban. Use of protective gear is common among journalists on potentially dangerous assignments, and some media firms require their employees to do so.
In 2010 Italian journalist Fabio Polenghi and Japanese cameraman Hiro Muramoto were killed by gunfire while covering anti-government protests in the Thai capital.
The correspondents club unsuccessfully called for the law's repeal at the time and renewed that call today.
"We urge the authorities not to press ahead with the criminal case against Mr. Kwan, and to work with the media community in Thailand to decriminalise the legitimate use of body armour and other relevant and purely protective items," its statement read.
To reach us about this article or another matter, please contact us by e-mail at: [email protected].