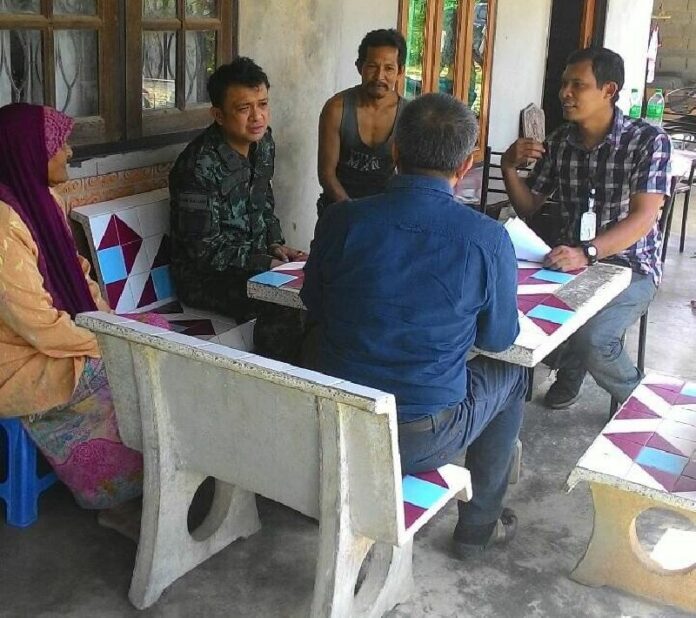 PHANG NGA — For three months, bombing suspect Wanna Suansan has not returned to her home in the south of Thailand, her family said today.
As a warrant was being issued in Bangkok for Wanna's arrest in connection with the bomb attack, a combined force of police and military converged on the Thai woman's family home and interviewed her relatives today in Phang Nga province.
At around 2pm today soldiers and policemen arrived at Wanna's family home and conducted a search of the property for any suspicious material. No illegal items were found in the search, police said.
Her family members told police she has not been back home for three months.
According to a reporter on the scene in Phang Nga, a police officer told one of the relatives to use the Line chat application to contact Wanna and ask where she was, at which point Wanna allegedly replied that she is in Turkey.
Arrest warrants were issued this afternoon for 26-year-old Wanna Suansan, a Thai national; and an unidentified foreign man, a police sketch of which is at right. Images: Royal Thai Police
Two weeks after a powerful bomb killed 20 people at Bangkok's Erawan Shrine, Wanna today became the first named suspect to emerge from the subsequent investigation.
A court issued arrest warrants for the 27-year-old woman as well as an unnamed foreign man on the suspicion of being involved in the attack. Previously warrants were issued for a lead suspect thought to have placed the bomb and a second man suspected of dropping an explosive device in a riverside waterway minutes after the blast.
Investigators believe both were staying in a Min Buri district apartment building where a Saturday night raid and subsequent search turned up fertilizer, gunpowder, wiring, watches, bolts and other items.
The raid came several hours after police and soldiers raided another apartment in Nong Chok district, where in addition to finding forged Turkish passports and a cache of possible bomb-making materials, an unidentified foreign man was taken into custody.
An arrest warrant was issued today for Wanna and an unnamed foreign national.
Although his passport – a likely fake, given its many irregularities – identified him as Adem Karadag, authorities have made no conclusions yet as to what his name actually is or where he's from.
No one has taken credit for the attack which has spawned wide-ranging speculation from global jihadists and domestic terrorists to far-right Turkish ultranationalists.
Related stories:
Warrants Out for Thai Woman, Foreign Man
Police Search for More Suspects After Arrest
Floundering Bomb Investigation Deepens Doubts About Competency
No Longer Whole, a Family Buries its Dead and Waits for Answers
City Officials Bridle at Claims of Broken CCTVs
Bangkok Bombing Dragnet Yields 142 Unrelated Arrests
Bangkok Bomber May Have Fled Thailand: Police
Man Dropped Bag into Water Night Before Sathorn Pier Blast
Seen Often on Sathorn 10, Suspect Thought to Use Fake Turkish Passport
Leaked Police Report Tracks Lead Suspect Before, After Bombing
1M Baht Bounty for Bangkok Bomb Suspect
Bangkok Shrine Bombing: Those Who Died
Despite Lack of Evidence, Thai Media Points Blame at Uighurs
Tourists Narrowly Escape Second Bangkok Bombing in 24 Hours
Bangkok Shrine Bombing: Police Hunt Backpack Man
Tourists Among 19 Killed by Bomb at Bangkok's Erawan Shrine
To reach us about this article or another matter, please contact us by e-mail at: [email protected].